MLK Jr. Death: 45th Anniversary Marked by '50 Days of Nonviolence' Campaign (VIDEO)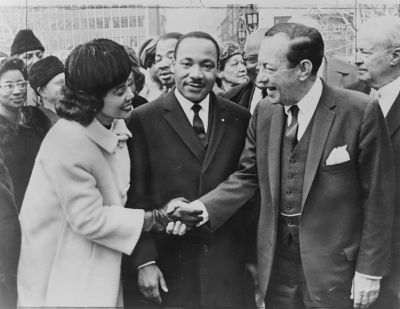 MLK Jr.'s death was remembered across the United States on Thursday, marking the 45th anniversary of his tragic assassination.
Dr. Martin Luther King Jr. was assassinated on April 4, 1968 in Memphis, Tennessee and exactly 45 years later the civil rights activist is remembered as one of the men who has changed American history forever.
In Atlanta, Georgia, the King Center commenced a special initiative off to celebrate the Nobel Peace Prize winner's life - "The 50 Days of Nonviolence" was kicked off. The campaign will challenge the youth of today to abstain from any violent behavior for the remainder of the school year.
Bernice King, MLK Jr.'s daughter and the chief executive officer of the King Center, stated: "As my father said, 'The choice is no longer between violence and nonviolence. It is either nonviolence or nonexistence.' We believe young people have a leadership role to play in creating a nonviolent society."
Bernice King also spoke outside the King Center at exactly 7.01 p.m. ET, the exact time her father was shot and killed by white supremacist and convict James Earl Ray.
A Baptist minister, King became a civil rights activist early in his career. He led the 1955 Montgomery Bus Boycott and helped found the Southern Christian Leadership Conference (SCLC) in 1957, serving as its first president.
With the SCLC, King led an unsuccessful struggle against segregation in Albany, Georgia, in 1962, and organized nonviolent protests in Birmingham, Alabama, that attracted national attention following television news coverage of the brutal police response.
King also helped to organize the 1963 March on Washington, where he delivered his "I Have a Dream" speech.
On October 14, 1964, King received the Nobel Peace Prize for combating racial inequality through nonviolence, and in 1965, he and the SCLC helped to organize the Selma to Montgomery marches and the following year, he took the movement north to Chicago.
In the final years of his life, King expanded his focus to include poverty and the Vietnam War, alienating many of his liberal allies with a 1967 speech titled "Beyond Vietnam".
King was planning a national occupation of Washington, D.C., called the Poor People's Campaign, but ultimately he was assassinated on April 4, 1968, in Memphis, Tennessee. His death was followed by riots in many U.S. cities.
Here is a video of MLK Jr's famous "I Have a Dream" speech:
Martin Luther King - I Have A Dream Speech - August 28, 1963