Mother Teresa canonization, one day before the 19th anniversary of her death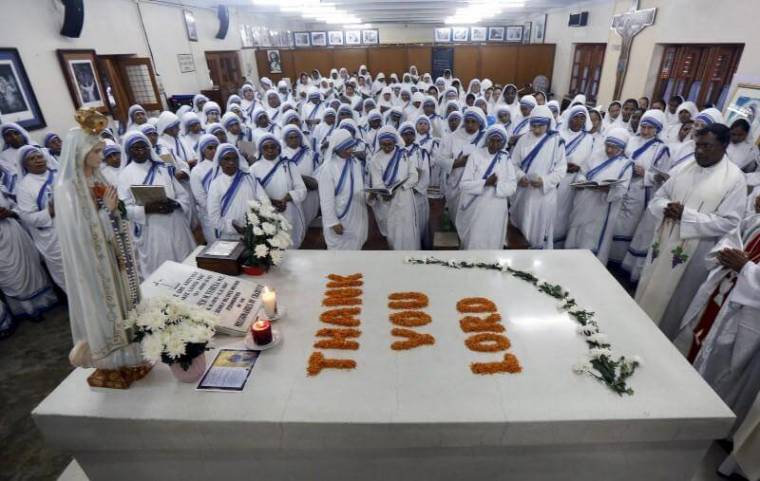 When Pope Francis recognized a second miracle attributed to the "saint of the gutter," Mother Teresa became eligible for sainthood in the Catholic Church.
In 2003, she had been beatified by Pope John Paul II based on a first miracle attributed to her, that of answering prayers to her by an Indian woman with a brain tumor. On Tuesday, Pope Francis declared Sept. 4 as the day Mother Teresa will be sainted.
The Vatican attributed a second miracle to her, that involved what was called as a miraculous healing of a Brazilian man with multiple brain abscesses.
Born Agnes Gonxha Bojaxhiu on Aug. 26, 1910, in Skopje, now known as Macedonia. She became a nun in 1928, joining the Loreto order. In 1946, as she was traveling from Kolkata, then known as Calcutta, to Darjeeling, she became inspired to found the Missionaries of Charity order, which became final four years after. The order has since then opened 130 houses all over the world, giving care and comfort to the needy, poor, abandoned and marginalized in society.
Mother Teresa has been hailed globally for her works of mercy and was awarded the Nobel Peace Prize in 1979. At the age of 87, she died on Sept. 5, 1997, in Kolkata, where she had worked tirelessly for decades with the poor of the city.
The event falls in perfectly with the Holy Year of Mercy inaugurated by the pope and may turn out to be the highlight of the celebration. It is to take place in the Vatican and not in Kolkata, which the Indians had been hoping for.
The Missionaries of Charity now number 4,500 nuns worldwide still continuing the works set as an example by Mother Teresa, the founder.
It was Pope John Paul II who gave the dispensation for proceeding with the path of sainthood in Mother Teresa's case, sooner, less than two years after the nun's death, which, by rule, should be five years from a person's death.