NFL Star Philip Rivers Opens Up About His Christian Faith, Says Jesus Is the Foundation of His Marriage
One of the NFL's most productive players is also one of the league's most devoted followers of Jesus Christ.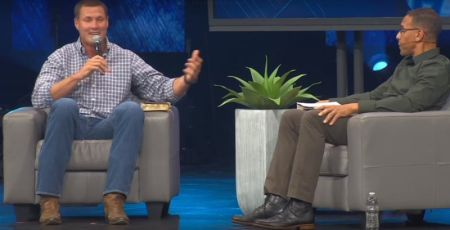 He is Philip Rivers of the Los Angeles (formally San Diego) Chargers, a player who holds almost every Chargers record at the QB position and is poised to become the greatest quarterback in Chargers history, according to Sports Spectrum.
Since becoming a starting quarterback in 2006, Rivers has passed for over 4,000 yards in eight of the last nine seasons and has thrown over 20 touchdown passes in every season.
But while his exploits in the football field are well known, not too many know about his deep Christian roots and his iron-clad commitment to his family.
Rivers opened a window to his spiritual life in a recent discussion with Rock Church's Pastor Miles McPherson, who is a former San Diego Charger himself.
He said he was born and raised Catholic in a small town in northern Alabama. He was already close to Jesus when he was still a young boy, having served as an altar boy at church and attended mass every Sunday with his parents and two younger siblings.
But it was only when he went to college at North Carolina State that his faith "really became my own," Faithwire reported.
"I had to get up out of that dorm room and go to church, go to mass on Sunday. That's when I took ownership of my faith," he said.
Rivers got married at the age of 19 to his middle school sweetheart, breaking his celibacy only after marriage.
"Remaining pure, being chaste, was very important to us," he said. "Obviously there wouldn't be many other reasons to get married at that point. I didn't have a penny to my name."
Rivers and his wife have had eight children—six girls and two boys—over the past 16 years.
He said he is happily married to his loving wife. "I think that the center of our marriage and the foundation of our relationship was on Jesus," he said. "That is why it's worked to this point."
Rivers admitted that he is sad to leave San Diego after calling the city home for 13 years. However, he believes the team's move to Los Angeles is all part of God's plan.
Although being successful in his chosen sport is important to him, Rivers said his main mission in life is to help others grow in their faith.
"I hope that God has used me to touch one of you in your faith journey with Jesus," he said.
He encouraged people to lift themselves up from whatever is putting them down.
"Too many times we think we've fallen too far from God or we're not worthy," Rivers said. "Only by God's mercy and grace. We aren't worthy, we're all sinners, but we are because of Jesus dying for us."