Nike's 'Back to the Future II' Sneaker Release Date, Specs & Price Details: Self-Lacing Air Mag to Come Out on Oct. 4? [VIDEO]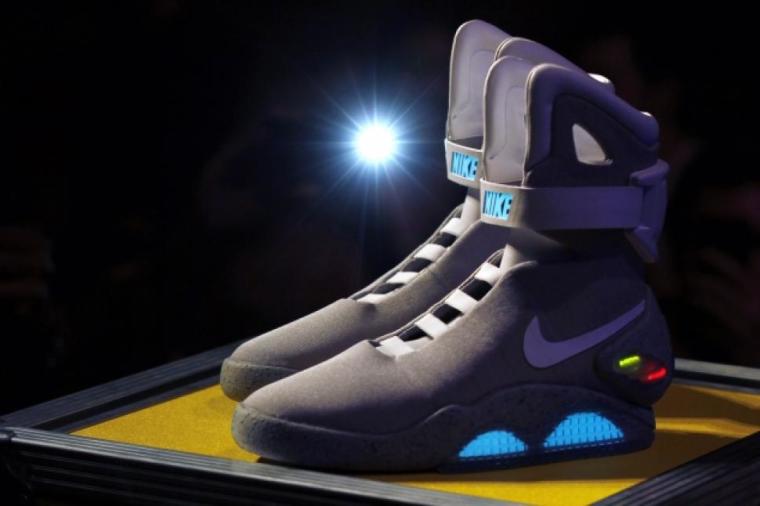 Nike confirmed last year that the self-lacing Air Mag sneakers inspired by the 1989 movie "Back to the Future II" were in the works. Rumors are rife that the highly anticipated launch of the futuristic kick will hit today, Oct. 4.
Nike Mag Lottery
Speculations about the release of the fully functional power-lacing Nike Mag surfaced yesterday after the sportswear giant tweeted Michael J. Fox, the actor who popularized the high-end kick in "Back To The Future II." Nike told Fox that they are "excited for tomorrow."
Sneaker News confirmed that Nike is indeed officially releasing its version of the famous self-lacing sneakers. Sources confirmed to the media outlet that all proceeds from the sales of the futuristic kick will go to the Michael J. Fox Foundation for Parkinson's Research.
Nike Mag's last release was in 2011 through an open-ended auction. Unlike the previous release, the sought-after sneakers can be owned this time via lottery.
Nike Mag Specs & Price Details

The average selling price for the Nike Mag in 2011 was around $4,500. This time, the company will not technically release the long-awaited sneakers, but award them randomly. To enter the lottery, one must make a charitable donation to Fox's Foundation.
Details on the process of donation and the amount are still unknown. But according to a tweet from Nike, customers who want to own a pair of the futuristic sneakers should download and install the Nike+ App to learn about the process.
The power-lacing Nike Mag copies the design and features of the iconic pair in the movie. It comes with the signature LED lights and power-lacing capabilities.
Another Self-Lacing Kick is Coming
The news about Nike Mag's release came just days after the company gave update on its other self-lacing shoe, the HyperAdapt 1.0. Per Wired magazine, the innovative sneakers will come out on Nov. 28. Details on how to preorder the futuristic kick will be announced in the coming weeks.
HyperAdapt 1.0 features motorized lacing system that allows the shoes to adapt to the foot automatically with the push of a button. It has a blue light that illuminates when the system is tightening and when the battery is running out of power. Its battery can last for almost two weeks and should be charged for at least three hours.
According to Nike's PR Director Heidi Burgett, HyperAdapt 1.0 will only be available in the U.S. at some chosen retail locations. As of press time, the company has not yet issued the list of retailers that will handle the release.