Nina Dobrev and Ian Somerhalder Take Playful Pictures After Filming Final Damon and Elena Scene for 'The Vampire Diaries'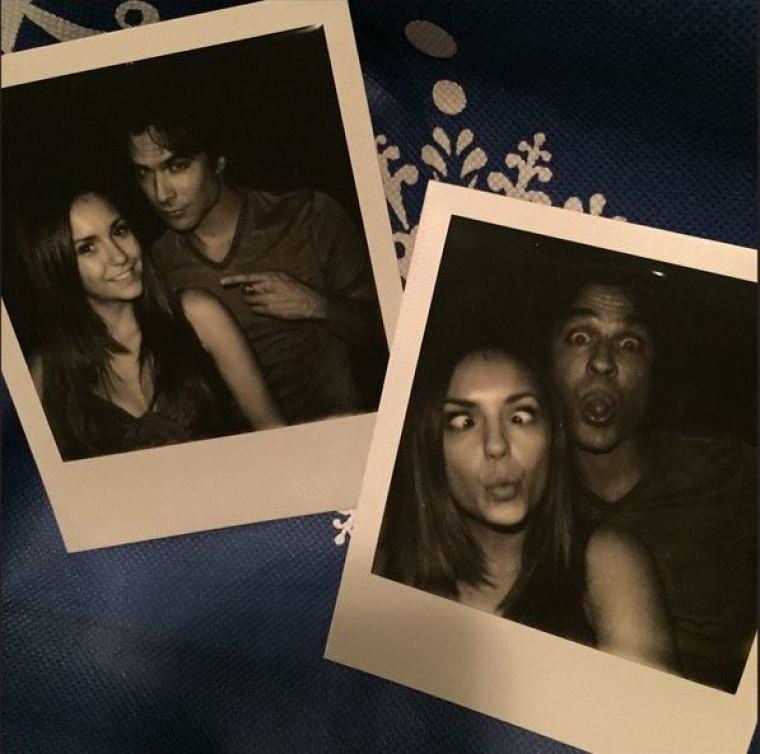 It has been two years since Nina Dobrev and Ian Somerhalder split up, there appears to be no bad blood between "The Vampire Diaries" co-stars as they took a few silly pictures together after filming the final scene as Damon and Elena for the remaining episodes of season six of the show.
"#FBF to last week with @IanSomerhalder shooting our final 'Damon and Elena' scene," Dobrev captioned a collage of two black and white Polaroid pictures on her Instagram account on Friday, April 24. In one photo, she and the 36-year-old are smiling, and in the other, the two are making silly faces at the camera.
Another photo, which included Somerhalder, was captioned, "#FBF All my #TVD boys…last day on set together! Gonna miss thinking up ways to prank all you hooligans on a daily basis! 'Fangs' for the memories!"
Dobrev announced that she would be leaving "The Vampire Diaries" via Instagram in early April. The actress has starred in The CW supernatural drama as Elena Gilbert since its premiere in September 2009. She portrayed the main protagonist in the series as her character was loved by two vampire brothers, Damon and Stefan Salvatore.
"I always knew I wanted Elena's story to be a six season adventure, and within those six years I got the journey of a lifetime," part of the 26-year-old's announcement read on Instagram.
Fans of the show took Dobrev's leaving hard, and many of them asked for the show to end now that the actress is making her exit.
One fan wrote on Twitter, "Nina Dobrev is officially leaving 'The Vampire Diaries' … seriously what is TVD without her???"
Dobrev and Somerhalder started dating in 2010 but split after three years together. The actor is now engaged to "Twilight" actress Nikki Reed after a whirlwind six month romance.