Oldest Vertebrate Animal Greenland Shark is 400 Years Old , Biologists' New Method of Determining Age Reveals
Scientists Reveal the Female Greenland Shark Is the Oldest Living Vertebrate Animal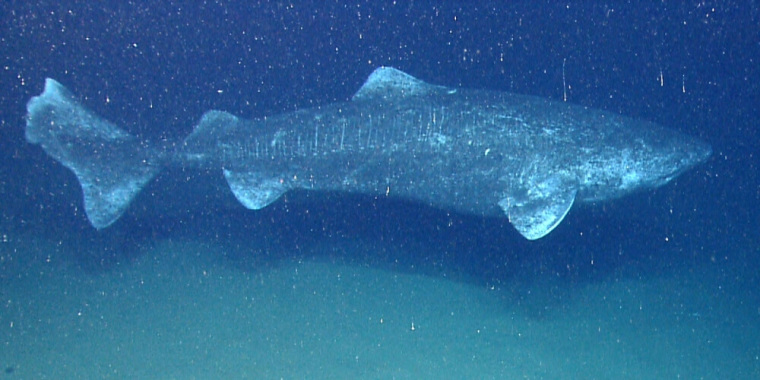 Nowadays, scientists are using a new method to determine the age of marine species. By doing so, they came up with a conclusion that one of the Greenland sharks they sampled is nearly 400 years old - the oldest ever to be recorded so far.
The group of researchers led by Julius Nielsen, a marine biologist at the University of Copenhagen in Denmark, used the pulse of carbon-14 (produced by nuclear tests in the 1950s) to determine the age of the certain marine species. They studied 28 female Greenland sharks. The radiocarbon dating of eye lens nuclei revealed that the Greenland sharks' life span is at least 272 years.
Yearly growth
The team also discovered that these sharks grow a centimeter every year and reach maturity at about 150 years. Before these findings, a bowhead whale, believed to be about 211 years old, was the longest-living vertebrate animal.
"The Greenland shark is a very, very soft shark - it has no hard body parts where growth layers are deposited. So it was believed that the age could not be investigated," Mr. Nielsen told the BBC.
The team couldn't apply the same techniques they used to test other shark species such as the Great White. This prompted them to think of a different method to determine the age of the Greenland sharks. But, Nielsen noted that radiocarbon dating does not produce exact dates. They only had an approximation of the Greenland shark's age which was between 272 and 512. The biologists, however, can't tell why and how it's possible for this species to live for such a long time.
"That's one question we really can't say we know the answer to," Bushnell said. "We don't know how big the babies are, where they're born, we've never seen pregnant females, so there's a lot of questions we have about that."
What are Greenland sharks?
Greenland sharks are located in the waters of the north Atlantic and Arctic oceans. They live most of their lives underwater and are rarely, or even never, spotted at the surface. They live 7200 feet below the surface where the temperatures are as low as around 34 to 68 degrees Fahrenheit. This temperature would freeze other shark species.
Bushnell believes the cold temperature could have been working in favor of the animal. He said that the temperature has a profound sluggish effect on the chemical reactions and metabolism of the sharks.
Concerns are now on the conservation of this shark species. It is believed that its population is low in numbers. The sharks are being caught in Norway, Iceland and Greenland for its liver oil. Presently, this species is listed as "Near Threatened" by the World Conservation Union.