Olympics 2016 News and Updates: Voting for US Flag Bearer for the Rio Games Still Open; Preview of Athletes Being Considered
Cast Your Votes to Assign the Next Person to Bear the American Flag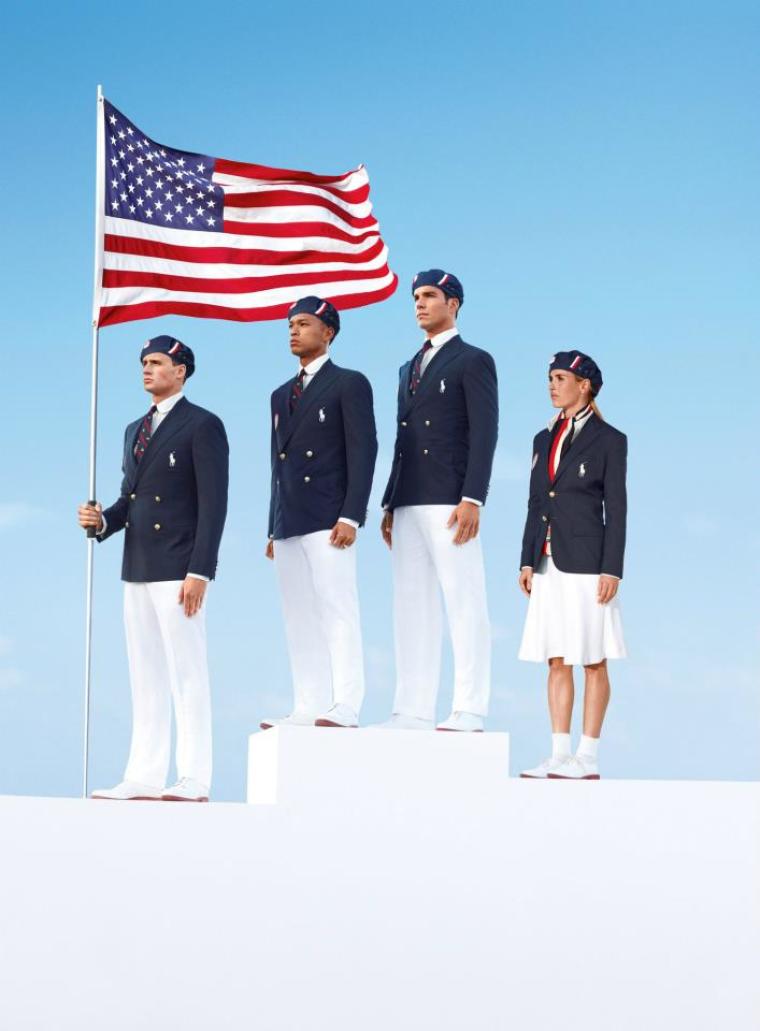 Some countries have decided on their flag bearers and some, like the US, have yet to decide who will bear the flag for the nearing 2016 Olympics.
Voting is still open for the last week before the opening ceremony to be held at Rio de Janeiro, Brazil on August 5. Announcement will be made on August 4.
Polo Ralph Lauren and the United States Olympics Committee, though, have already unveiled this week the opening ceremony parade uniform of the US team, as well as the flag bearer jacket.
Athletes Being Considered
Seventeen outstanding athletes are being considered for the honorable job of carrying and waving the flag during the opening ceremony parade. Here are the athletes people are looking at:
Michael Phelps, swimming: Phelps has 22 Olympic medals (18 of which are gold), making him the most decorated Olympian of all time. This year's Olympics is his fifth time in the games and Phelps announced would also be his last. He had mentioned "it would be cool to carry the flag."
Kim Rhode, shooting: Rhode has been to the Olympics for five times and this year will be her sixth. In the five times she went, she brought back a medal each time, making her the first US Olympian to win five medals in five consecutive Olympics.
Kristin Armstrong, cycling: Armstrong won gold medals in the individual time trial in 2008 and in 2012. This year is Armstrong's fourth time in the Olympics.
Tony Azevedo, water polo: Azevedo is the first US water polo player who has been to the Olympics for five times including this year's Rio Games. He won silver in 2008 and is hungry to win gold this year.
Carmelo Anthony, basketball: Anthony is to become the most decorated US men's basketball player and will break other Olympic men's basketball records if he wins gold this year. He won gold in 2008 and 2012 and won a bronze in 2004.
Diana Taurasi, basketball: Taurasi won three Olympic gold medals for the US, has three WNBA titles with the Phoenix Mercury, six international titles in the EuroLeague and in Russia's UMMC Ekaterinburg. She is also set to break an all-time record for most gold medals won by a women's basketball player if she wins gold this year.
Kerri Walsh Jennings, beach volleyball: Rio is Walsh Jenning's fifth Olympics. She won three consecutive Olympic titles in Athens, Beijing and London. She is set to win a fourth consecutive gold this year, though the previous three were won with a different partner.
Serena Williams, tennis: Williams has been to the Olympics for three times in the past and won gold each time. After claiming the Wimbledon gold medal, she made history by being the first to achieve the feat in both singles and doubles. She has 30 Grand Slam titles and four Olympic medals under her name. Williams is ranked World No. 1 for more than non-consecutive 300 weeks.
David Boudia, diving: Boudia claimed the 10m platform gold in London alongside a synchronized platform bronze. He won silver in the 10m platform at the World Championships in 2011, 2013 and 2015.
Beezie Madden, equestrian: Madden won Olympic team show jumping gold medals in 2004 and 2008, as well an individual bronze in 2008. Rio will be her fourth Olympics.
Ibtihaj Muhammad, fencing: Muhammad is set to make history as the first U.S. Olympian to compete in a hijab. Muhammad claimed gold in the team category of the Pan American Games in 2011 and in 2015. She also won gold in 2014 at the World Championships and four bronzes in 2011, 2012, 2013 and 2015.
Steven Lopez, taekwondo: Lopez is a four-time Olympian. He won gold in 2000 and in 2004 and won bronze in 2008. He also has five world titles under his name. With his stellar career, Lopez is the most successful taekwondoist in history. He is set to become taekwondo's most decorated Olympian if he wins another one in Rio.
Carlin Isles, rugby 7s: Isles is part of the Olympics team as the fastest man in rugby, which is returning to Olympics after a long hiatus from 1924.
Logan Dooley, trampoline: Dooley is the the first US man to compete in a Worlds trampoline final in 33 years following the 2013 World Championships. Dooley will step into the Olympics as the sole male trampoline athlete for the US in Rio.
Carli Lloyd, soccer: Lloyd is the captain of the US Women's National Team. She is a two-time Olympic gold medallist and the 2015 FIFA Player-of-the-Year.
Bernard Lagat, track and field: Lagat has been to the Olympics five times and is the oldest US Olympic runner of all time. He claimed two medals from the Olympics in 2000 and in 2004.
Jordan Burroughs, wrestling: Burroughs won gold from the 2012 Olympics and has taken up a leadership role in the wrestling community to keep wrestling in the Olympic program.
Voters will be able to cast their votes on this page: http://www.nbcolympics.com/news/vote-who-should-carry-us-flag-opening-ceremony