Rio Olympics Bungle? Hydrogen Peroxide Reportedly Dumped in Olympic Pools; Officials Drain Green Pools
Olympic Officials Decided to Drain the Pools Amid Concerns Over Water Athletes' Health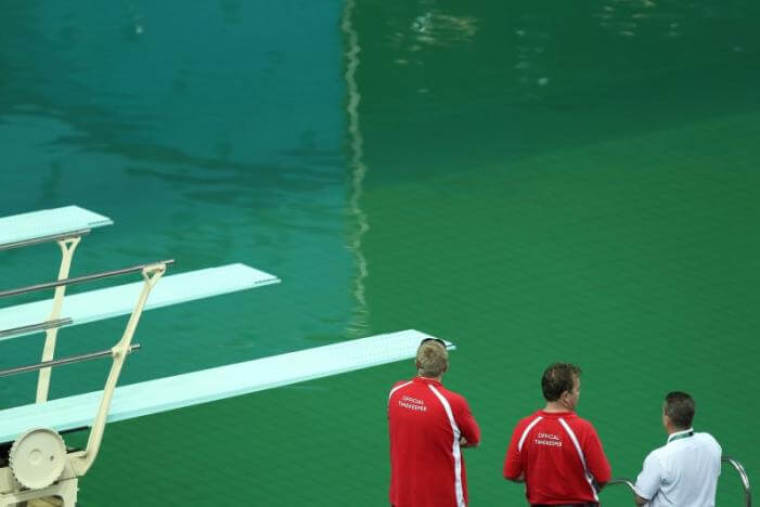 Rio de Janeiro – Olympic organizers revealed on Saturday that the change in color of the Olympic pools is caused by the dumping of hydrogen peroxide into the water. The Olympic organizers had replaced the waters of the green pools on Saturday through Sunday amid concerns over the athletes' health and the disturbance the murky waters pose to the water competitions.
The pools in Mari Lenk Aquatics Centre was reported to have turned green on Tuesday and yet organizers confirmed the pool to be safe to enter. Following a water-polo competition, athletes reported to be suffering from itchy eyes and feeling unwell.
Hydrogen peroxide added with chlorine
Recent reports now reveal hydrogen peroxide was added to the pools, neutralizing the chlorine in the pools and allowing algae to bloom.
Gustavo Nascimento, the director of venue management of the Rio Olympics, said the chemical is a perfect cleaning agent and is commonly used in cleaning pools, except when in combination of chlorine. He says the neutralized chlorine stimulated the proliferation of organic compounds when athletes started using the pools last weekend. He did not disclose in details though what the organic compounds are.
"The electronic monitoring system that measures the amount of chlorine in the water was betrayed by this chemistry," Nascimento said at a press conference on Saturday alongside Mario Andrada, a spokesman for the Rio Games. The pool for the water-polo competitions had turned cloudy blue while the diving pool remained murky bluish green by Saturday afternoon.
"Of course it's an embarrassment," Andrada said. "We are hosting the Olympic Games, and athletes are here, so water is going to be an issue. We should have been better in fixing it quickly. We learned painful lessons the hard way."
Health risk issues
On Friday, organizers closed the pool to training with officials saying this is to help the pool turn blue again by not disturbing the waters. They also stressed the green pool still does not pose any risk to water athletes. Divers including American diver Abby Johnston have been expressing concerns over the health risks of having to swim in the pool's waters. She labelled it to be "the swamp" while German diver Stephan Feck described the stench of the pool as smelling like "fart."
Nascimento said the process of replacing the waters would take about 10 hours and is expected to complete by 7 a.m. on Sunday, four hours ahead of the first synchronized swimming event of the games.