Santa Clarita Fire [MAP]: Sage Fire Burns 800 Acres, Evacuations Around Stevenson Ranch Area
Firefighters Battle Brush Fire Near Santa Clarita Valley Threatening Hundreds of Homes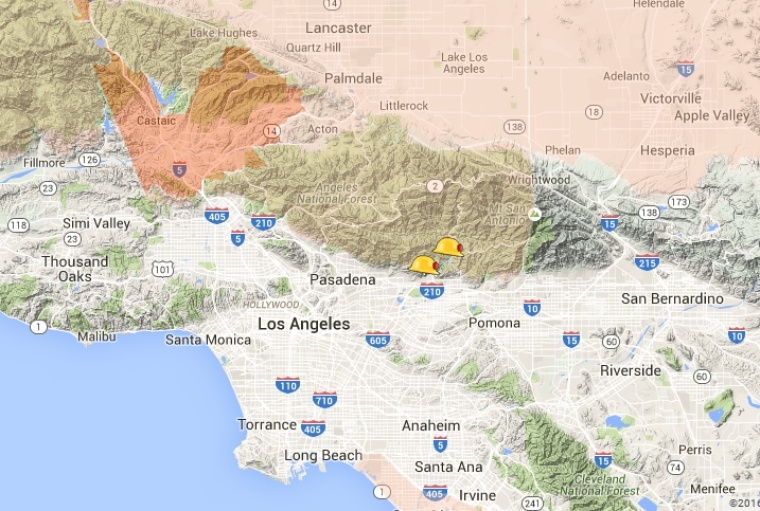 CALIFORNIA -- About 700 homes have been evacuated after a fire broke out near The Old Road and Calgrove Boulevard where the Los Angeles County Fire Department were called to on Saturday afternoon.
Evacuations were ordered for the areas of Southern Oaks Drive between Greenbriar Drive, SouthWind Court, Sagecrest to Smokewood Way, Bracken Lane, Hazlecrest Lane, Laurel Crest Lane, Summerhill Lane, Jasmine Lane and the community of Morning Mist.
"In addition to Santa Clarita Station deputies, Temple Station, Walnut Station, South Los Angeles Station and Lomita Station personnel have been deployed to the fire with deputies securing the evacuated areas and road closures," Los Angeles County Sheriff's officials said in a statement. "They will remain until all evacuations are lifted and the area is reopened."
A Red Cross evacuation was set up at West Ranch High School in Stevenson Ranch.
Around 800 acres of the Steven Ranch area have been burning, but the fire agency has confirmed to have contained 15% of the fire by 7 p.m. with the help of more than 200 firefighters, four helicopters and a DC-10 aircraft.
According to Kevin Takumi, Helicopter Photographer for FOX, Sage investigators are looking at a burnt car to have been the source of the blaze that spread rapidly.
The National Weather Service recorded the temperatures in the area at 88 degrees at 3 p.m. and wind gusts of around 25mph. Vanessa Lozano of the Fire Department said the fire had spread to 75 to 100 acres within 90 minutes of flaring up.
"We are having to battle with Mother Nature," said Los Angeles County Fire Capt. Roland Sprewell. "The winds are blowing and the terrain is challenging. The firefighters are in dense, heavy brush, and after a five-year drought, all this vegetation is prime and ready to burn."
One firefighter has been reported to be injured. Also, no structures burned or injured residents and fatalities had been reported.
"We do have structure protection in place," fire Inspector Gustavo Romero said.
According to Deborah Wolfe of the American Red Cross, no residents had formally checked into the the evacuation center. "At this point, we have not been told to go into shelter mode," she said. Red Cross provided information, food and shelter to evacuees.