Teen Choice Awards 2016 Complete List of Nominees: John Cena to Host Event; Performers, How to Vote and Watch Live Streaming
Nominations Still Open Until Sunday Late Afternoon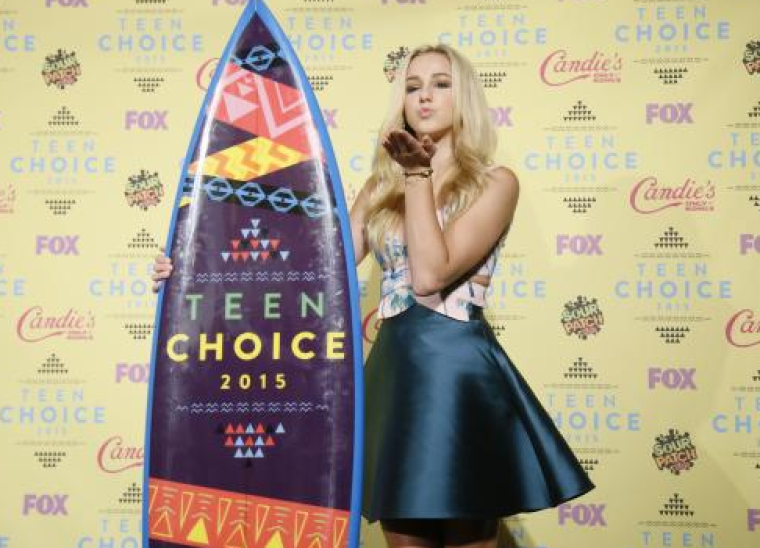 Thrilling moments of countdown starts now as it is just hours away from the time surfboards hit the stage with the Teen Choice Awards happening at The Forum in Inglewood at 8 p.m. ET.
Stars Attending the Event
The night will be hosted by John Cena and Victoria Justice. Performers of the night will be Flo Rida, Charlie Puth and EMPIRE's Serayah. Justin Timberlake will also make a special appearance. Other celebrities expected to attend the event are Chris Evans, Daisy Ridley, Shay Mitchell, Ashley Benson, Jessica Alba, Jennifer Garner, Lea Michele, Sarah Hyland and Ne-Yo. Timberlake noted through Twitter that Kobe Bryant will be presenting the Decade Award as well at the event.
Where to Watch Live Stream
Live streaming will be available on FOX.com and the FOX NOW app which is available for both Android and iOS devices. Streaming will go LIVE at 8/7c for ET/CT viewers and time-delayed in other time zones. You may also watch the live broadcast on FOX.
For more information on where to watch the event, visit this link.
Vote for Your Choice of Nominee (First to Final Wave of Nominees)
Voting is still open until 6 p.m. Sunday. To be able to vote, you must be located within the 50 states in the US and the District of Columbia including Puerto Rico and the US Virgin Islands. You may cast your vote by visiting http://vote.teenchoice.com/, using your registered Facebook account and following the steps to submit a vote for the category/categories and nominee of choice; or through your registered, public Twitter account and tweeting a nominee/s with the correct category hashtag, and/or through the FOX NOW app then clicking on the "TEEN CHOICE" section.
See below for the full list which you may use as guide to cast your vote.
MOVIES
Choice Movie: Action/Adventure
Deadpool
In the Heart of the Sea
Maze Runner: The Scorch Trials
Spectre
The Divergent Series: Allegiant
The Jungle Book
Choice Movie Actor: Action/Adventure
Chris Hemsworth – In the Heart of the Sea
Dylan O'Brien – Maze Runner: The Scorch Trials
Neel Sethi – The Jungle Book
Ryan Reynolds – Deadpool
Theo James – The Divergent Series: Allegiant
Choice Movie Actress: Action/Adventure
Charlotte Riley – In the Heart of the Sea
Kaya Scodelario – Maze Runner: The Scorch Trials
Lea Seydoux – Spectre
Morena Baccarin – Deadpool
Shailene Woodley – The Divergent Series: Allegiant
Choice Movie: Sci-Fi/Fantasy
Batman v Superman: Dawn of Justice
Captain America: Civil War
Fantastic Four
Star Wars: Episode VII – The Force Awakens
The Hunger Games: Mockingjay – Part 2
The Huntsman: Winter's War
Choice Movie Actor: Sci-Fi/Fantasy
Ben Affleck – Batman v Superman: Dawn of Justice
Chris Evans – Captain America: Civil War
Chris Hemsworth – The Huntsman: Winter's War
Henry Cavill – Batman v Superman: Dawn of Justice
Josh Hutcherson – The Hunger Games: Mockingjay – Part 2
Robert Downey Jr. – Captain America: Civil War
Choice Movie Actress: Sci-Fi/Fantasy
Amy Adams – Batman v Superman: Dawn of Justice
Charlize Theron – The Huntsman: Winter's War
Chloe Grace Moretz – The 5th Wave
Daisy Ridley – Star Wars: Episode VII – The Force Awakens
Jennifer Lawrence – The Hunger Games: Mockingjay – Part 2
Scarlett Johansson – Captain America: Civil War
Choice Movie: Drama
Creed
Miracles from Heaven
Point Break
10 Cloverfield Lane
Straight Outta Compton
The Martian
Choice Movie Actor: Drama
Jacob Tremblay – Room
Leonardo DiCaprio – The Revenant
Matt Damon – The Martian
Michael B. Jordan – Creed
O'Shea Jackson Jr. – Straight Outta Compton
Taron Egerton – Eddie The Eagle
Choice Movie Actress: Drama
Alicia Vikander – The Danish Girl
Brie Larson – Room
Jennifer Garner – Miracles from Heaven
Jennifer Lawrence – Joy
Jessica Chastain – The Martian
Tessa Thompson – Creed
Choice Movie: Comedy
Barbershop: The Next Cut
Mother's Day
Mr. Right
Ride Along 2
The Intern
Zoolander 2
Choice Movie Actor: Comedy
Ice Cube – Barbershop: The Next Cut, Ride Along 2
Jordan Peele – Keanu
Keegan-Michael Key – Keanu
Kevin Hart – Ride Along 2
Will Ferrell – Daddy's Home
Zac Efron – Neighbors 2: Sorority Rising
Choice Movie Actress: Comedy
Jennifer Aniston – Mother's Day
Anna Kendrick – Mr. Right
Chloe Grace Moretz – Neighbors 2: Sorority Rising
Anne Hathaway – The Intern
Melissa McCarthy – The Boss
Nicki Minaj – Barbershop: The Next Cut
Choice Movie Villain
Daniel Brühl, Captain America: Civil War
Adam Driver, Star Wars: Episode VII – The Force Awakens
Jesse Eisenberg, Batman v Superman: Dawn of Justice
Aidan Gillen, Maze Runner: The Scorch Trials
Charlize Theron, The Huntsman: Winter's War
Ed Skrein, Deadpool
Choice Movie Scene Stealer
Chadwick Boseman, Captain America: Civil War
Gal Gadot, Batman v Superman: Dawn of Justice
Tom Holland, Captain America: Civil War
Jena Malone, The Hunger Games: Mockingjay – Part 2
Evan Peters, X-Men: Apocalypse
Miles Teller, The Divergent Series: Allegiant
Choice Movie Breakout Star
John Boyega, Star Wars: Episode VII – The Force Awakens
Gal Gadot, Batman v Superman: Dawn of Justice
Brianna Hildebrand, Deadpool
Daisy Ridley, Star Wars: Episode VII – The Force Awakens
Neel Sethi, The Jungle Book
Alexandra Shipp, X-Men: Apocalypse
Choice Movie Chemistry
Thomas Brodie-Sangster & Dylan O'Brien, Maze Runner: The Scorch Trials
Robert Downey, Jr., Scarlett Johansson, Don Cheadle, Paul Bettany & Chadwick Boseman, Captain America: Civil War
Chris Evans, Sebastian Stan, Anthony Mackie, Elizabeth Olsen & Jeremy Renner, Captain America: Civil War
Jennifer Lawrence & Josh Hutcherson, The Hunger Games: Mockingjay – Part 2
Daisy Ridley & John Boyega, Star Wars: Episode VII – The Force Awakens
Shailene Woodley & Theo James, The Divergent Series: Allegiant
Choice Movie Liplock
Henry Cavill & Amy Adams, Batman v Superman: Dawn of Justice
Emilia Clarke & Sam Claflin, Me Before You
Chris Evans & Emily VanCamp, Captain America: Civil War
Chris Hemsworth & Jessica Chastain, The Huntsman: Winter's War
Jennifer Lawrence & Josh Hutcherson, The Hunger Games: Mockingjay – Part 2
Shailene Woodley & Theo James, The Divergent Series: Allegiant