'The Big Bang Theory' Season 8 Spoilers, Plot News: Episode 20 Recap 'The Fortification Implementation'
This week on "The Big Bang Theory," it's all about building meaningful relationships when Howard meets the brother he never knew he had, Amy tries her best to cheer up Sheldon after he wasn't chosen to attend a symposium at one of his idols' house, and Kevin Smith tells Penny that he'd love to cast her in a movie.
Howard has his lawyer track down his father so he can sign over the title of the house. As he never had any intention to meet him, Howard is relieved that he doesn't have to meet or talk to his father. The next day, the doorbell rings, and when Howard opens the door, he sees a young man in glasses grinning at him. His name is Josh, and Howard learns that he's his half-brother.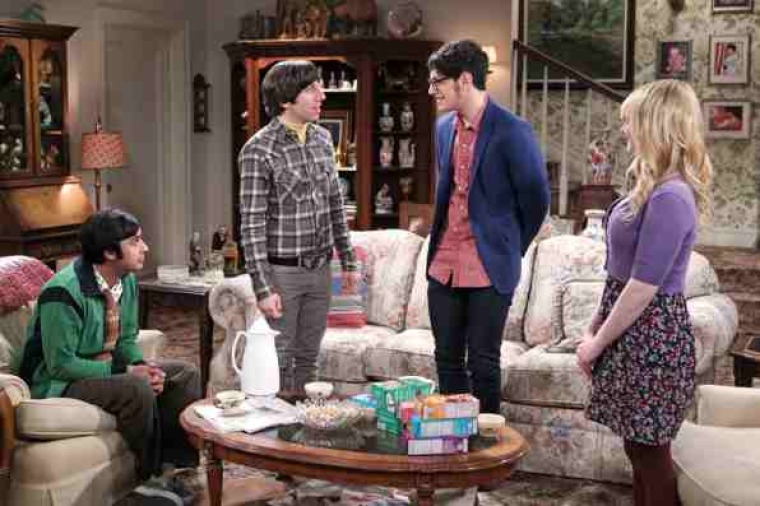 Raj is immediately suspicious as he's convinced that Josh needs something from Howard—why else would he appear so suddenly in Howard's life? Howard is devastated at the thought of his father living his life with another family, and just as he's about to ask Josh to leave, he catches him staring admiringly at his NASA headshot. This makes Howard decide to bond with his brother and before long, they discover that they share a love for science and magic.
Meanwhile, its date night at Sheldon's place, and Amy is starting to get miffed because he's still moping about not getting invited to attend a symposium at the former home of famed physicist Richard Feynman. Sheldon says that being left out reminds him of the time when his siblings never let him play in their forts, so Amy decides to cheer him up by building a fort.
Later, Amy asks if she can sleepover, and Sheldon says that this is a big step for them. Amy tells him that it's a big fort. Sheldon says yes, and when he offers to lend her pajamas and a toothbrush, Amy reveals her emergency supplies that she's hidden all over his place just in case she finally gets to sleepover.
At Penny's, Will Wheaton is interviewing her for his podcast. He tells her that their movie, which was panned by critics, has a cult following. Later, Kevin Smith calls in and berates Will, then he tells Penny that he would love to cast her in a movie.
Leonard thinks that this is a bad idea since Penny now has a successful career. They argue, and it's revealed that Penny is earning more than him and that she has started investing wisely. Worried, Leonard asks Penny to do something reckless to prove that she doesn't think that she's better than him. She tells him ok—she's going to audition for Kevin Smith's movie.
"The Big Bang Theory" airs on Thursdays at 8 p.m. on CBS.