'The Real Housewives of Atlanta' Season 7: Reunion Part 2, NeNe Leakes Almost Attacks Kenya Moore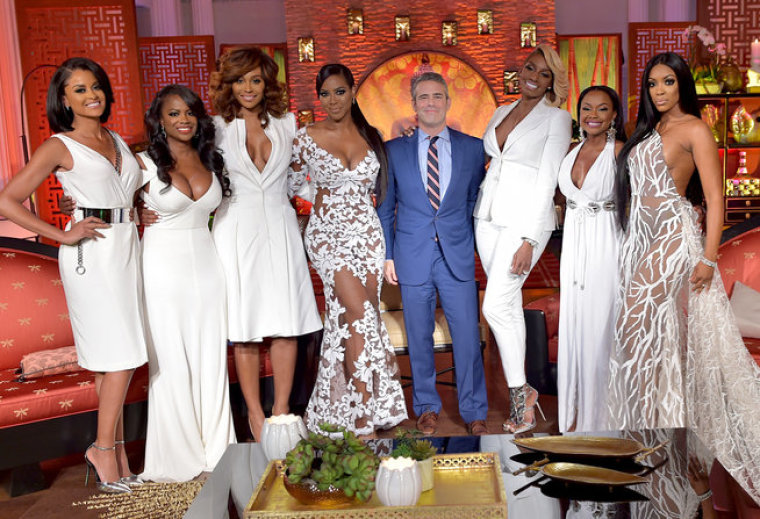 This week on part 2 of "The Real Housewives of Atlanta" reunion, the ladies rivaled the Fight of the Century as Phaedra Parks and Kenya Moore rehashed their issues with one another, and NeNe Leakes gets heated and almost pounces on Kenya.
The reunion starts with some clips of Cynthia Bailey at her cattiest moments over the past season.
"I think in a group like this it's important to have a voice and I think it's also important to be a [expletive] sometimes," she tells Andy Cohen.
Kenya reveals that NeNe didn't make good on a bet that they made on last season's reunion. At NeNe's urging she and Kenya both bet each other that they would donate $20,000 to Detroit Public Schools at last year's reunion. Kenya donated the money and posted it on social media, but NeNe did not donate the money as she tells Cohen that she'll do it when she's ready.
The husbands joined the Housewives this time around, and Peter Thomas, Cynthia's husband, defended himself against NeNe calling him names.
"I don't care! I am always gonna say what I wanna say, when I want to say it," he says.
Phaedra's alleged affair came up, and she denied it saying, "I still love Apollo, still love him to this day."
Kenya had a few words to say about that and as they rehashed Apollogate, it sparked another fight as Kenya said, "Everybody flirts. NeNe was flirting with Peter."
"Girl, I have never flirted with Peter, don't go there!" screamed an instantly incensed NeNe.
"If you don't want to own it that's fine," retorts Kenya.
"I have never flirted with Peter! Don't go there! Don't go there!" NeNe yells as she moves to the edge of the couch. "Hold on! You not gonna disrespect me and my husband."
"I just did," deadpans Kenya.
"You ain't gonna disrespect my marriage!" NeNe screams as her husband, Gregg, asks Cohen to ask Peter directly.
"I'm glad you think you have a prize," Kenya tells Gregg.
Part three of "The Real Housewives of Atlanta" reunion airs on Sunday, May 10, at 8 p.m. on Bravo.