'The Real Housewives of Beverly Hills' Season 5: Reunion Show Part 3 Recap, Kim and Kyle Richards Battle it Out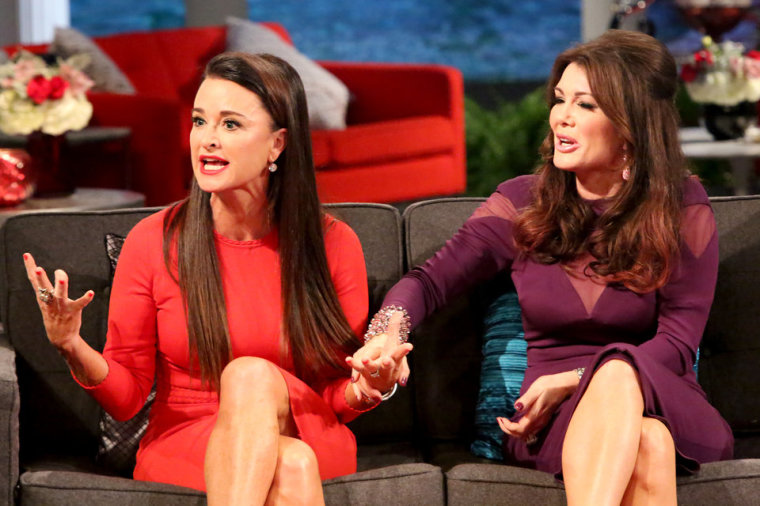 The finale of 'The Real Housewives of Beverly Hills' reunion showed Kim and Kyle Richards getting into a war of words, and Kim outs Lisa Rinna for the threatening text messages she sent to her.
Andy Cohen points out that Kim and Kyle have unresolved issues after the season 5 finale, and that is when things got ugly between the sisters, especially when talk turned to Kim's pit bull Kingsley, who made headlines last year after the dog attacked a friend of Kim's and bit Kyle's 18-year old daughter, Alexia.
"She decided to Instagram it and make a public display of it," yelled a livid Kim.
"My daughter almost lost her hand!" countered Kyle.
"I can't even look at her," said Kim of her niece. "My daughter called and asked her to take it down, and she wouldn't because she wanted Instagram followers…You had to make a big show of it," she snarled at Kyle.
Kyle then asks her if she knows that Alexia had an IV for four weeks. "Where's your responsibility in all this?" asks Kyle.
"I'll tell the story and you won't like it," warns Kim. "You want to threaten me? You want me to tell?"
Kim says that it was Kyle's fault why Alexia was in the hospital because she wouldn't give her any antibiotics. Kim also said that the dog is staying with a trainer now.
Kyle says that she will always love Kim, but she doesn't like her as a person right now.
Later, Kim decides to read a series of text messages that Lisa Rinna sent to her.
"Be very careful or I will [expletive] you up," Kim reads. "You be nice to your sister. You believe her and stop telling lies in that order. Thanks."
When questioned, Lisa broke down and said that Kim's habit of shutting her down reminded her of when her father used to do the same thing to her. In the end, Lisa apologizes, and the two hug it out.
Meanwhile, Brandi Glanville is angry that the Housewives are questioning her sobriety and accused Kyle of being a hypocrite when she called her out for smoking marijuana. Kyle says that she's not trying to be "Miss Perfect" but the difference is that Brandi says things just to be mean and that she's not capable of having a nice time. Later, Kyle says that she really made an effort to see the good in Brandi, but she doesn't really see it.
Will the Richards' sisters feud tear them apart for good? Will Brandi ever apologize for her behavior? Find out when "The Real Housewives of Beverly Hills" returns for its sixth season on Bravo.