'The Simpsons' Season 27 Finally Confirms Waylon Smithers' Sexuality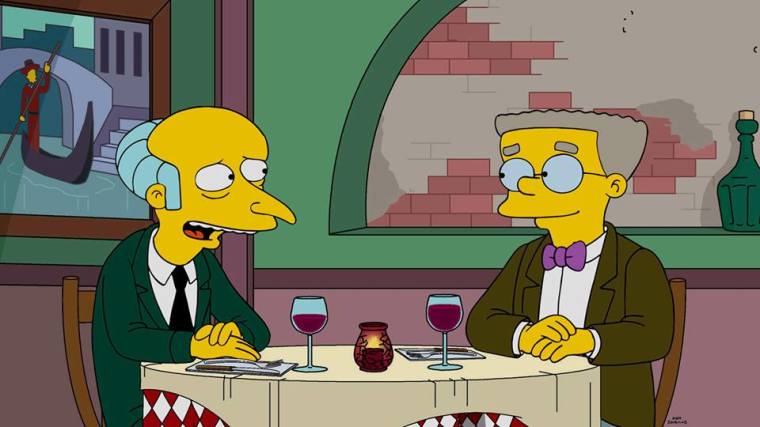 The longest-running animated sitcom "The Simpsons" has finally addressed an issue that everyone has been waiting for despite the obvious answer. According to a report by Uproxx, season 27 episode 17 highlighted Waylon Smithers' subtle coming out as gay. It's no new secret though to all of the fans, as there have been several episodes already that hinted the sexuality of Smithers. But what makes the episode interesting is that this is the first time that he had openly admitted being gay.
Belfast Telegraph detailed that the episode titled "The Burns Cage," which aired on Sunday, April 3, had a storyline wherein Homer Simpson played matchmaker to help Smithers find a boyfriend. This took place after Mr. Burns, Smithers' boss and object of affection, showed zero interest with his personal assistant even after all the years that he has been with him. Mr. Burns is also seen telling Smithers that he means nothing to him.
The episode was not just whipped from nothing though as reports reveal that it was inspired by the personal story of one of the writers of "The Simpsons." As noted in Australia Network, writer Rob LaZebnik came up with the storyline as a way to express his love for his 21-year old gay son, Johnny. "I thought, 'What better way to tell my son I love him than to write a cartoon about it?'" stated LaZebnik.
New York Post also reported that LaZebnik even presented the script of Smithers to his son who gave his approval and comments later on about the revelation. Johnny, who is a senior psychology major and film minor then said: "The revelation that my father loves me is not much of a revelation, thankfully. He's unbelievably accepting. We're as close as a straight dad and a gay son could be."
"The Simpsons" airs on Fox every Sunday.