'Tri-Faith Initiative' Building Church, Synagogue, Mosque Side by Side in Nebraska: 'Sharing Belief in the God of Abraham'
Three Abrahamic faiths—Christianity, Islam, and Judaism—are converging in Omaha, Nebraska in a project that its organizers say is being led by God.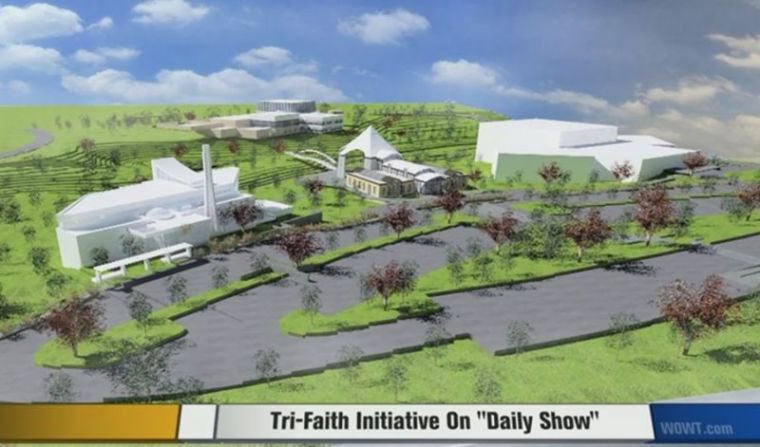 Called the Tri-Faith Initiative, the unprecedented project will see a mosque, a synagogue, and a church standing side by side in one location. Already built are the American Muslim Institute and Temple Israel with the Countryside Christian Church also set to rise up, according to the organizers' website.
In a statement on the Tri-Faith Initiative website, the organizers—a rabbi, a reverend and an imam—expressed belief "that we are being led by our God to continue the journey started by Abraham and that we are all called to be a blessing to each other and our community" considering "their shared Abrahamic faith and their belief that they all worship the same God."
"Judaism, Christianity, and Islam share a monotheistic belief system," they explained. "Our traditions have many names for God and use several languages for our sacred texts, but we share a belief in the God of Abraham."
The $65 million project was launched in 2006 and is being funded through donations. Temple Israel was the first to open its facility in 2013, followed by the American Muslim Institute, which completed its mosque last spring. The Countryside Christian Church was the last to break ground on June 5.
"We've been waiting for this moment since entering into the Tri-Faith dialogue back in October 2013. It was a true leap of faith for the congregation to vote in support of relocation back then," church leader Eric Elnes told KMTV.
Even though the project is not yet finished, the Tri-Faith Initiative is already sponsoring activities including speaking engagements, a children's program, shared holidays among congregations, an annual picnic, and others, according to its website.
"Our mission is not about compromising anybody's faith," Imam Mohamad Jamal Daoudi of the American Muslim Institute told CNN. "We are here to learn about each other and to live as neighbors with each other."
While some people are hailing the initiative as a move to promote peace, others are not convinced.
The Global Faith Institute, led by Dr. Mark Christian, a former Muslim turned Christian, had some concerns.
Christian says the involvement in the project of the Islamic Society of North America, Council on American-Islamic Relations, and the Muslim Student Association "represents an unacceptable influence from known purveyors of radicalism and Islamic supremacism."
He says the project is "a very appealing target for extremists of all stripes who might wish to make a statement using violence."
"The likelihood of religious or sectarian violence at the site, as well as the importation into the American heartland of Islamic supremacism by groups known to support terrorism ideologically and financially, stands as a great cause for concern among the residents of Omaha, Nebraska and the nation as a whole," Christian warns.