A 'Hint' Takes Down a Hybels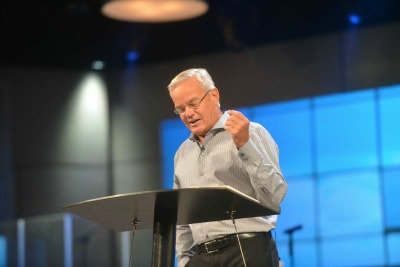 "But among you there must not be even a hint of sexual immorality, or of any kind of impurity, or of greed, because these are improper for God's holy people."
 Ephesians 5:3
"The Spirit is willing but the flesh is weak."
These famous words ring "infamous" in light of the recent revelations leading to the resignation of one of evangelical America's heroes, Bill Hybels. While Christians behaving badly only confirms the Gospel and the need for a Savior, there is a reason James, the half-brother of Jesus said, "Not many of you should become teachers, my fellow believers, because you know that we who teach will be judged more strictly. We all stumble in many ways."
These are cautionary words coming from Christianity's first senior pastor, ombudsman and visible leader of the first and rapidly expanding church in Jerusalem. It leads me to think that James felt it necessary to warn all aspiring pastors to be careful what you hope for and to be very self-aware while shepherding God's people.
It just takes a hint of inappropriate behavior to take down a leader of God's flock in today's socially charged environment.
The flesh is legendary for its ability to take down the best of men who began their journey with Christ equipped with an abundance of skill, vision and the best of intentions. It seems almost every week I hear of another leader or fellow pastor in God's army who has been shot down after what seemed to be an awesome beginning or even an amazing beginning and middle season of the journey only to lose the reputation those eras brought to them by not finishing well.
Their journeys follow a common pattern.
Phase one looks like this:
Highly visible conversions;
Accelerated spiritual growth and training;
Visionary aspirations;
Strong spiritual gifting and a willingness to risk;
Clear call to service and ministry for Christ; and
Growing fame, influence and leadership in the Body of Christ
Phase two looks like this:
Success and recognition;
Growing pressures connected to their responsibilities;
Growing frustrations and discouragements that come with greater visibility;
Increasing isolation and openness to small compromises which the leader may or may not realize;
Patterns of behavior are established but not confronted; and
Increased visibility creating a pedestal effect leading to lack of transparency and accountability or "The King has no clothes!" syndrome.
Finally, phase three looks like this:
Power and influence create the illusion of control;
Loose moral and mental boundaries lead to acting out or the blurring of boundaries;
Unrecognized vulnerability;
A fireball trailing thick black smoke heads south toward earth; and
They expect their private issues to stay in some box, but they never do.
Bill Hybels is just like all of us, but his success and influence makes us believe that his ministry somehow translates into impeccable private character. Think Tiger Woods and David Petraeus – both were apex predators on the success scale in their own right, and people concluded that they had inner character because of their outer success. But these were not ministers. The world's highest-paid golfer and (at the time) the world's most famous and decorated four-star general got eaten alive by the media hyenas but eventually they came back to their chosen careers in some form.
But for Bill Hybels I am afraid this is not going to be the case. He is a pastor and, as one of the earliest church fathers predicted, he will be incurring a stricter judgment in the court of public opinion.
Pastoring is a character profession, and so it's consequential when a man violates boundaries – perceived, cultural, or biblical. That is why the Bible warns that a "hint" of immorality can take down even a Hybels in today's culture. Let this be a lesson for all us who call ourselves pastors or ministers.