Dr. Michelle Cretella on Transgender Ideology: 'Institutionalized Large-Scale Child Abuse'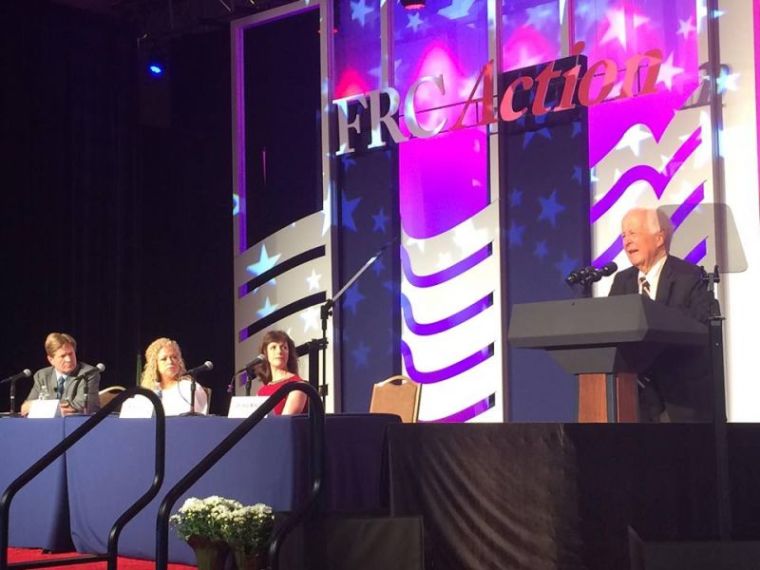 "For most of human history, it has been pretty obvious that we determine our gender by our bodies. But today, more are beginning to believe it starts in the mind. It's troubling when an adult chooses this, but when children become involved, it's dangerous," stated Peter Sprigg of the Family Research Council, who moderated a panel on gender ideology and children at the Values Voter Summit in Washington, D.C. on Saturday.
The three-person panel included Elizabeth Johnston (aka the "Activist Mommy") who discussed the "Sex-Ed Sit-Out" – an initiative she began that in just a few months grew into a global movement, resulting in schools in four countries seeing a sixty percent decrease in attendance among students on April 23 to protest graphic sexual content being taught. "Outrage without action is ineffective," Johnston proclaimed as she described how parents can unite by keeping their children out of school's liberal sex education programs. Unfortunately, Johnston's speech was cut short with the anticipation of Vice President Mike Pence's arrival.
Before Johnston, mother of ten children, spoke about her social activism and child advocacy, the large crowd of over a thousand heard from two very distinguished medical professionals on the issue of gender ideology. Dr. Paul McHugh, who at one time led the psychiatric department at John's Hopkins University, said that gender dysphoria is a "disorder of assumption...but now, medical practitioners are helping to affirm their assumptions, not correct it. These are not evidence-based treatments," McHugh lectured. "These treatments are described in the scientific literature as 'very low quality' – you wouldn't use an aspirin with these types of results."
McHugh went on to describe his work at John's Hopkins: "In the early 1980s, we psychiatrists and plastic surgeons at John's Hopkins did a follow-up study (of post-operative transgenders) ten years after treatment and compared them to those who didn't get the surgeries, and found out they were just as unhappy with their work, relationships, and other key reasons why they initially reported that they needed the treatment. Two-thirds said they were happy with the treatment, but the reasons why they initially got the treatment were not accomplished ... as a medical community, we have gone from helping our clients become healthy to making them happy," which McHugh described as having disastrous results.
Dr. Michelle Cretella, executive director of the American College of Pediatricians, spoke boldly when she followed McHugh: "America is engaged in large-scale child abuse...and complicit in this is my field. People have a biological sex – we don't have something additional to that which is hardwired into our brains or our DNA. Sex is not assigned by people . . . it declares itself. Our bodies tell us who they are." When describing the pediatric community's encouragement of sex change and hormonal treatments for gender dysphoric youth, Cretella called it "institutionalized child abuse."
"If you have a child as young as three who is confused about their sex, and the treatment involves changing their name and their dress...in the process, you are indoctrinating all of the children around them...we're not just stopping the body developing, we're also permanently affecting the brain...and now, 14 states and 44 counties have banned therapies for transgender youth, essentially forcing them into this condition."
On Friday, before Dr. Cretella spoke, I had the chance to sit down and interview her about her work with the American College of Pediatricians and speech at the Values Voter Summit.
The American Academy of Pediatrics (AAP) new policy on gender identity and youth was just released in September 2018 and is titled: "Ensuring comprehensive care and support for transgender and gender diverse children adolescents." In the policy's introduction, it states: "Despite some advances in public awareness and legal protections youth that identify as LGBTQ continue to face disparities that stem from multiple sources, including inequitable laws and policies, societal discrimination, and the lack of access to quality healthcare, including mental healthcare." I found that last statement to be pretty ironic, considering that the AAP has been supportive of laws banning certain types of mental health interventions (e.g., so-called "conversion therapy") for youth who experience gender dysphoria that might wish to resolve those issues or change their gender identity or expression back to their biological/birth sex. What disparities in mental health care for transgender youth is the AAP referring to?
The AAP is referring to resistance to transition-affirming counseling. In other words, the judgment on gender dysphoria and children is a foregone conclusion in that their approach is to treat it as though transgenderism is innate and unchangeable – just a variation of human nature – so the only reason they give for any of the health disparities between children with gender dysphoria and those without it is essentially "gender minority stress" which means, the stigma that comes with being a transgender youth is the only contribution to these health disparities, and if medical providers would simply affirm their desire to change their gender, the child's mental health issues would resolve.
One of the interesting things that you said about the new AAP policy is that it is deceitful to say that it has been supported by 67,000 pediatricians, since it was basically drawn up by a committee and approved by less than 50 pediatricians.
Correct, it was written by one author, and based on the committees listed at the end of the policy, 24 pediatricians contributed to the statement and would have had a vote on passage. Other than those 24, the policy would have been voted on by the AAP Board of Directors, which has 12 members. So, 36 members voted on it. 36 members, representing 67,000! Since there is never a minority report, we do not know how many of the 36 may have abstained from voting or rejected it (though most likely, they all did vote in favor). In other words, AAP membership is never consulted on any position statement, and the membership is made aware of statements only 24 hours before it's released to the media.
After they put out this policy, they often make statements such as "the consensus" of medical professionals agrees this to be the correct response to gender-dysphoric children. Is this really a consensus?
"Consensus" is NOT the same as scientific evidence. Science is decided by following the scientific method and carrying out valid experiments before unleashing a potentially dangerous protocol upon all children, as is done with hormonal treatments for gender dysphoria/transgender identified youth – remember, even non-gender-dysphoric children are impacted by the normalization of gender transition in schools and mass/social media.
Do pediatricians at your organization, the American College of Pediatricians, take more of an active part in reviewing and approving policy statements?
Yes, we have 600 pediatricians, and every policy is voted on by all members. If less than seventy-five percent of the membership votes in favor for a policy, the resolution does not pass.
Doesn't it make more sense that a large medical guild would assign certain issues to different committees that specialize in certain subjects? Why is the College's process in approving these policies better than the AAP?
It makes sense to have your experts in this area draft policies, however, if we represent our members who are out in the field, we should give them the opportunity to have our positions considered carefully. At the College, members are given 2-3 weeks to review newly proposed policies and provide feedback before a vote, which allows the authors of these policies to consider their suggestions. This way, a real consensus is formed among the membership.
For those who might not be familiar with the American College of Pediatricians, can you talk a little bit about the history of the organization and how it got started?
The American College of Pediatricians formed in 2002 at the AAP national meeting in Boston, Massachusetts with a core group of AAP pediatricians who got together to form their own organization because, essentially since 1973 with the passage of Roe v. Wade, the AAP policies became increasingly based on politics and not science. When we first founded, our two initial policies were: 1) Life begins at conception; and 2) Same-sex parenting is not equivalent to or the same as the ideal – parenting in a marriage between husband and wife. Since that time, AAP has been taking positions on those issues that are counter to the actual science, and the American College of Pediatricians has spoken out against this political infiltration in their policies and for sound science in policy-making.
In the summer of 2017 you wrote an article at The Daily Signal titled: "I'm a Pediatrician. How Transgender Ideology Has Infiltrated My Field and Produced Large-Scale Child Abuse." Not long after, you appeared on Fox News Channel's Tucker Carlson to talk about the politics of gender ideology and your profile really began to rise.
It used to be the goal of the medical and psychiatric profession to help people become healthy. But after decades of political correctness with the sexual and gender identity issue, the happiness of the patient has eroded the goal of health. But happiness is not the same as health – we could make patients with anorexia very happy by putting them on a diet that would help them starve themselves, but we know this is harmful for the patient. The problem is in their minds – not their bodies. The same is true for those who experience gender dysphoria. We need to help them resolve these issues in their minds, not mutilate their bodies and sterilize their reproductive organs. By encouraging young people to do this, we are encouraging large-scale, institutionalized child abuse.
Why do you think so many have responded to your message that sex changes and puberty blockers for youth with gender dysphoria is akin to child abuse?
Since I wrote that article in 2017 and appeared on Tucker Carlson, there has been an outpouring of positive support that rivals any backlash. Quite frankly, I think it's because I am saying what the vast majority of people know to be true – that radical transgender ideology goes against science. I'm talking about such an obvious truth, and there's no real science to say that anyone can be trapped in the wrong body. As a matter of fact, science tells us quite the opposite – our bodies declare our sex, not our minds.
Tomorrow you're going to be speaking on a panel with some other well-known conservatives that have been outspoken against transgender politics, including Dr. Paul McHugh, who at one time led the psychiatric department at John's Hopkins. After McHugh published a landmark research review on sex and gender in The New Atlantis a couple of years ago, he was vehemently attacked by LGBT activists, who tried to bully John's Hopkins to denounce and distance themselves from McHugh. Do you believe professional medical and mental health associations have an obligation to condemn this kind of bullying and stand up for academic freedom, despite political differences?
Absolutely, we need to acknowledge that whether we are conservative, moderate, or liberal, we need each other, and any one of us can fall victim to "groupthink" and that's why academic freedom is so important. You cannot have good, solid, objective science without academic freedom, so yes, every mainstream medical and psychological professional organization should be standing up for that. Unfortunately, it's quite the opposite today, as many of these guilds are squelching and censoring studies they do not agree with for political purposes. A perfect case in point is the article in The New Atlantis you referred to that Dr. McHugh co-authored with Dr. Lawrence Mayer. A more recent example is Dr. Lisa Littmann, who is affiliated with Brown University. She published a very important study on the rapid-onset of gender dysphoria in youth. After it was published, a handful of transgender activists complained, and the university apologized and removed their press release and the study from their website. The journal that published the study similarly apologized to the transgender community and has posted a notice saying while this study is still published, they are going to be looking into it more closely.
What do you hope to get across in your speech tomorrow at the Values Voters Summit?
I hope to get across to the audience that our society is manufacturing transgender children with political ideology and bad science, and it's impacting not just those gender dysphoric children, but all of our children socially – we are essentially chemically castrating physically healthy children – this is something that needs to be resolved in the mind, not the body.
Finally, you are a wife and a mother. What is it like to balance that role as a mother of four children and also a pediatrician caring for families and children? Is it difficult for you to take the doctor hat off and just be mom?
It became more difficult to balance family and my role as a pediatrician and child advocate, so in 2012, I stepped out of clinical pediatric practice (which I did for about 20 years) and went full-time into writing and researching, and now I'm the executive director of the American College of Pediatricians. It's a blessing to be able to work from home and travel around the country and speak about the health and well-being of children. My husband, who is also a doctor, is really supportive, and we have four wonderful children!
Christopher Doyle is a licensed clinical professional counselor and the founder of Voice of the Voiceless, a non-profit organization that advocates for the ex-LGBT community and individuals with unwanted same-sex attractions and gender identity conflicts. For more information, visit:
www.VoiceoftheVoiceless.info
. For more information on Dr. Michelle Cretella and the American College of Pediatricians, visit:
www.ACPeds.org