Planned Parenthood's Hot Sex Campaign
Thanks to some nifty slogans that Planned Parenthood is slinging, teens are getting the message that while sex is hot—bad sex ed is not. So, what is bad sex education? Apparently, it's the message that delaying sex for the future is a bad idea. After all, the message implies, sex is hot and you're not if you're waiting for it. Other advertisements feature a condom covered banana. Sigh.
This is our tax dollars at work, folks. Advertisements like these are featured on Facebook, and directed at young, impressionable teens. Planned Parenthood educators visit public schools throughout our nation distributing condoms and propaganda that encourages early sex, experimentation, and excitement over risky behavior. The reality is they are also in the business of treating sexually transmitted diseases, and offering abortions on demand. These teens represent job security.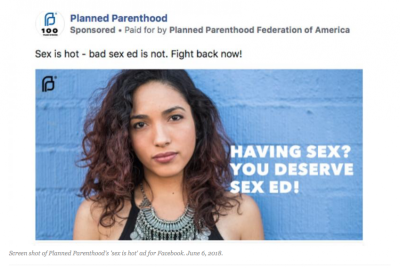 While we're counseled not to scare kids into choosing the wise behavior that would delay sex—the reality is that choices do have consequences. California—the state that boasts the most, is dealing with record high STDs. Chlamydia is highest among women—and can lead to infertility. While syphilis and gonorrhea is highest among men. These are treatable STDs—in that there is a cure. Other STDs, such as HPV and HIV have no cure. Sadly, many STDs leave residual issues that follow teens into adulthood.
Planned Parenthood continues to have a loud voice in the sex education arena, but the church, youth leaders, and especially parents have a strong voice of reason too. While the advertisements are in teens' faces, honest discussions with youth can go a long way towards giving them the information to make the best choice—saving sex for later in their lives.
Karen Farris served in the crisis pregnancy ministry — traveling thousands of miles and speaking to over 10,000 students about their life choices — for nearly a dozen years. She became a grant writer and helps find resources for projects that serve those in poverty, mainly children. She's been a blogger since 2010 — 
Friday Tidings
 — sharing stories of faith, life, and purpose to give hope in a hurting world.