Pro-Life Supreme Court Decision Is Good News for Religious Liberty, Sexual Freedom, and 'Gay Conversion Therapy' Bans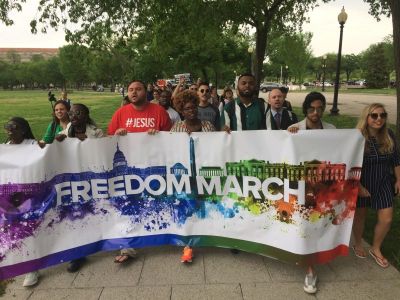 Usually when the phrase "sexual freedom" is uttered, one thinks of ideas such as free love and sexual liberation. But with the 2015 Obergefell v. Hodges Supreme Court decision that legalized same-sex unions across the country, homosexual activists began to make a strategic change of course – from securing rights for the oppressed to oppressing the rights of those who seek freedom from homosexual and transgender behavior.
Beginning in 2012, homosexual activists began pushing legislation to ban so-called "gay conversion therapy" – for minors first, and now adults – that experience unwanted same-sex attractions and gender identity conflicts. The most egregious of these bills is currently making its way through the California legislature – AB 2943 would define any effort by a licensed therapist or non-licensed religious counselor or pastor that seeks to help a person change their sexual orientation or resolve unwanted gender identity conflicts – as consumer fraud.
This horrific bill would make it illegal for even an unlicensed church counselor to help a child that was molested by a pedophile understand why he may be experiencing sexual confusion, and help him work through the unwanted erotic impulses that may result. To date, thirteen liberal states and over three dozen cities have banned licensed professional counselors from helping clients find freedom from these unwanted behaviors.
On June 12, 350 members of the faith community, including over 20 former homosexuals, canvassed Sacramento to testify of the freedom they received from professional counseling and spiritual support. Each member of the legislature was given a book of 37 testimonies, with the names and stories of real people who once struggled, but now experience freedom from their unwanted sexual and gender identity conflicts.
But that didn't matter to AB 2943's chief sponsor – Assembly member Evan Low, an openly gay-identified man – or the democrats that dismissed their testimonies and disrespected their objections, that the bill would violate their fundamental religious freedoms. Rather, the liberals stuck to their ideology, that so-called "gay conversion therapy" is a harmful practice that uses outlandish practices such as electroshock therapy and other archaic methods to shame gay people into turning straight.
An utterly ridiculous notion, "gay conversion therapy" is a farce – a term made-up by gay activists to vilify and demonize professional counselors and religious ministers who, out of compassion and love, seek to help those sincerely distressed by unwanted attractions that are unnatural to who they really believe they are. I was once one of those men – but today, I am walking in freedom with my beautiful wife, and together we have five wonderful children!
In my work as a licensed counselor, I have also helped hundreds of men, women, and families find healing and freedom. That is why I co-founded the National Task Force for Therapy Equality and Voice of the Voiceless in 2013 – to fight against the fraudulent campaigns of gay activists who are seeking to take away the freedoms of former homosexuals to live their lives according to their faith values and personal convictions.
After six years of witnessing gay activists fraudulently testify in front of dozens of state legislatures and city councils, our Task Force documented many egregious lies and submitted a complaint to the Federal Trade Commission (FTC) against three of the largest gay activist organizations that are peddling unscientific and deceptive propaganda – Southern Poverty Law Center, Human Rights Campaign, and the National Center for Lesbian Rights.
We describe, in detail, how these gay activists have engaged in deceptive marketing practices; supported witnesses that have delivered false testimony; raised large sums of money to ban therapy while using fraudulent practices; distorted the scientific research on successful efforts to change sexual orientation; perpetrated lies in promoting the "born gay" hoax; and engaged in smear and defamatory attacks on licensed therapists and faith-based ministries providing help and assistance to those who experience sexual and gender identity conflicts. The complaint, titled: "In Their Own Words – Lies, Deception, and Fraud" can be found on our websites at: TherapyEquality.org andVoiceoftheVoiceless.org.
Despite this fraud, gay activists continue to march through liberal state after liberal city, spinning their unverifiable "testimony" in front of ignorant politicians, aided by a complicit liberal media, all the while stripping rights away from parents, families, and children sincerely seeking help. But on June 25, the beginning of the end may have come for their efforts, as the Supreme Court of the United States (SCOTUS) handed down a landmark decision that has huge ramifications for bans on counseling.
In NIFLA v. Becerra, SCOTUS ruled that the state of California via "The California Reproductive Freedom, Accountability, Comprehensive Care, and Transparency Act" could not force pro-life crisis pregnancy centers to provide information on free or low-cost abortion services to their patients since it would be a violation of their first amendment speech protections. Before reaching the high court, however, a district court and the 9th Circuit Court of Appeals both ruled against them with the rationale that because practitioners were licensed medical professionals, the state could regulate their speech under what is described as professional speech or medical conduct speech
But Justice Clarence Thomas, who delivered the majority opinion, said there could be no such distinction in protections for free speech versus professional speech:
The dangers associated with content-based regulations of speech are also present in the context of professional speech. As with other kinds of speech, regulating the content of professionals' speech pose[s] the inherent risk that the Government seeks not to advance a legitimate regulatory goal, but to suppress unpopular ideas or information. Take medicine, for example. Doctors help patients make deeply personal decisions, and their candor is crucial. Throughout history, governments have manipulat[ed] the content of doctor-patient discourse to increase state power and suppress minorities.
What Thomas did not eloquently write was brutally communicated by 81-year-old Justice Anthony Kennedy, who announced his retirement from the high court at the end of July:
The so-called learned professions, acting in their professional capacities, are among our most valued participants in the marketplace of ideas. It is one thing to require professionals to exercise due care and competence in the provision of their services. It is another thing entirely to draft them to advance the ideological priorities of an activist state. By requiring pro-life professionals to advertise for free abortions, the state uses its immense power to undermine the very purpose of their professional work.
Kennedy then went onto ridicule the state of California in his opinion:
The California Legislature included in its official history the congratulatory statement that the Act was part of California's legacy of "forward thinking." But it is not forward thinking to force individuals to be an instrument for fostering public adherence to an ideological point of view [they] fin[d] unacceptable. It is forward thinking to begin by reading the First Amendment as ratified in 1791; to understand the history of authoritarian government as the Founders then knew it; to confirm that history since then shows how relentless authoritarian regimes are in their attempts to stifle free speech; and to carry those lessons onward as we seek to preserve and teach the necessity of freedom of speech for the generations to come. Governments must not be allowed to force persons to express a message contrary to their deepest convictions. Freedom of speech secures freedom of thought and belief. This law imperils those liberties.
The ramifications that come with the NIFLA v. Becerra decision are paramount for counseling bans, because both the 9th Circuit (Pickup v. Brown) and 3rd Circuit (King v. Christie) courts upheld bans on therapy precisely because they established what the SCOTUS just struck down – professional speech – a category of speech that is not found in the Constitution, but was invented out of thin air as a means to regulate unpopular, politically-charged ideas.
So while gay activists continue to roll out their #BornPerfect campaign to ban "gay conversion therapy" across the United States, the courts will soon have no choice but to strike down such laws in favor of #TherapyEquality and confirm at least one truth: No one is born with same-sex attractions, but the Constitution guarantees that we areborn with certain inalienable rights – among them, life, liberty, and the pursuit of happiness – and that goes for gays and ex-gays alike.
Christopher Doyle is a licensed clinical professional counselor and the co-founder of the National Task Force for Therapy Equality (TherapyEquality.org) and Voice of the Voiceless (VoiceoftheVoiceless.org). Follow him on Twitter @VoVChrisDoyle.