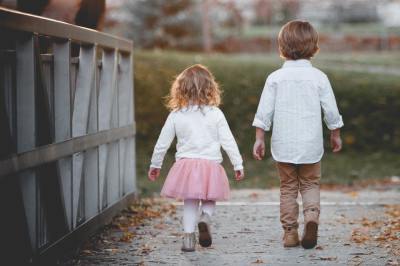 As a Christian parent, I'm sure you shout "Thank You, Lord!" when you find others of like mind who actually enjoy your kids and are a positive influence. Christian teachers, youth ministers, and other Christian mentors are gifts from God. Yes, it is your responsibility to rear your children in the fear and admonition of the Lord, but it is wonderful to have others come alongside and share in the challenge and joy.
It is not only wonderful; it is right. Our focus on the importance of the nuclear family and our inclination to "make it on our own" can cause us to undervalue the advantage of raising our children within a community of faith.
There are biblical principles that guide parents' decisions to share and delegate some responsibilities for their children's nurture and instruction. Consistent with those principles, Christian schooling offers an incredible opportunity for you to share your responsibility with fellow believers—people who share your worldview and are part of the household of faith.
Parents partnering: Our historical and biblical heritage
To fulfill your parental responsibilities before God, you should rightfully accept the primary, or ultimate, responsibility to raise your children in the fear and admonition of the Lord. While some families have chosen to fulfill this responsibility alone, it is clear that for generations, many Christian parents, if not most, have shared some of their responsibilities or delegated them to teachers, church members, and other trusted adults. In Bible times the synagogue was the place of instruction for the children of the faithful, and we know that Jesus Himself taught other people's children.
We see sharing and delegation of parental responsibilities both in the 1 Samuel 1–2 account of Samuel's youth, in which God seems to have blessed his mother's decision to delegate responsibilities (see 2:26), and in Titus 2, in which believers are clearly teaching others not of their immediate family but within the family of faith.
Defining family biblically
A Bible word search in the New American Standard Bible brings up 94 instances of the word family. Other translations produce similar results. The normal usage, in both Testaments, was what we now call the extended family. The words or phrases translated into English as family actually mean clan, tribe, or those living under the same roof. The same word used in Exodus 12:4 for household and family is used of a much larger group—the house of Israel—in Isaiah 5:7. What is the implication? The expectations placed on "families" were not for the biological mother and father alone; they were responsibilities of nurturance, integrity, and consistency that were placed on a larger, connected group. This is part of serving one another.
In the New Testament, the word household is not a synonym for the nuclear family; it represents an extended family (New Bible Dictionary, 2nd ed., Tyndale House, 1982). That is why it made sense in Ephesians 2:19 for Paul to call the church the household of God.
God desires to see His children flourish. The family and extended family provide mutual nurturance so that we each become more fully conformed to Christ. Christian sociologist Dennis Hollinger has written that the family is to be "that community in which humans develop basic trust, emotional resilience, social skills, moral integrity, Christian virtues, and a deep, personal knowledge of God." There we find deep intimacy, commitment, and "troth," as the reformers called it. Providing all this is a huge responsibility, and God never intended parents to shoulder the burden alone.
While the believing community changed as it moved from the Old Testament era into the New Testament era—from a community linked primarily by faith in a coming messiah to one linked by faith in Jesus the Messiah—its nature as an extended family did not change. It is easy to see the Christian school being part of the "extended family" God desires for each child. As an extended family, we share the joys and challenges of developing our children's trust, emotional resilience, social skills, and Christian virtues.
Your Christian school seeks to partner with you in the academic and spiritual formation of your child. Rejoice in God's gracious provision.  I encourage you to faithfully engage in your faith community and be the extended family for others.
The Christian school can be an influential partner for parents who rightfully seek a believing community in which to raise children who are academically strong and committed followers of Jesus Christ. The responsibility is on everyone's shoulders: parents need to be careful in choosing the school and the school needs to make sure it is worthy of the parents' trust. Christian school teachers aren't perfect, but they share a heart for God and a desire to partner with you in raising children who will love God with all their heart mind and strength and love their neighbors as themselves.
Does it take a village to raise a child? Yes, a believing village. Rejoice in God's provision.
Reference: David Hollinger, unpublished paper, "A Theology of Family," at the 1987 MK Education and Care Summit of the Christian and Missionary Alliance.
David K. Wilcox, Ph.D.  He is an Assistant Vice President - Global with the Association of Christian Schools International, based in Colorado Springs, CO. He provides oversight and support for ACSI offices in South Asia, East Asia, and the Americas.