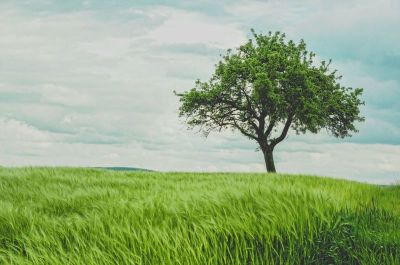 It's not the tree of knowledge of good and evil that appears twice in the Bible, it is the tree of life. At the very beginning in Genesis, we're told the Tree of Life is located in the middle of the Garden of Eden where "the Lord God made all kinds of trees grow out of the ground—trees that were pleasing to the eye and good for food" (Genesis 2:9). At the close of the Bible, Revelation 22:14 tells us, "blessed are those who wash their robes that they may have right to the tree of life."
Trees are a part of God's Garden here on earth and in their biblical context and in our world, trees do nothing short of marking the difference between desperation and flourishing. They offer us shade and food, clean the air we breathe of carbon dioxide, and hold precious water in their roots to prevent desertification and erosion.
Consider that 1.6 billion people rely on forests for fresh water, food, clothing, medicine and shelter, as do 80 percent of earth's land animals and plants that live in forests. Yet 2016 saw the worst year ever for trees with the loss of 41.7 million acres of tropical forest, followed by the second worst-ever in 2017, with 39 million acres lost. That's an area the size of Washington State.
The tree is life, yet we've all seen photos of cracked parched earth and dry lakebeds. Every minute of every day over just these two years, a tract the size of 40 football fields was clear-cut or burned to increase production of soy, cattle, palm oil, and wood products. Tree loss has nearly doubled over the past 15 years according to National Geographic. At this rate, the world's rainforests could completely vanish in a hundred years, turning vast swaths of land into desert.
Trees are an important part of food and water security that we are neglecting. They are vital to the water cycle and removing trees removes nutrients and water from soil which leads to desertification. This is deforestation, a degenerative cycle that harms the land until it is no longer viable for food production, with a massive impact on the global climate by increasing extreme flooding, monsoons, and drought. Which leads to even more desertification.
It is incumbent upon us to not only be good stewards of God's creation as God commanded Adam to "cultivate the ground from which he had been made" (Genesis 3:23), but to restore God's original plan for creation. 
One of the reasons my organization links environmental stewardship with our humanitarian work is to help bring land back to life. Adane Berihanu remembers well the barren land where he grew up — a highly drought-prone region in northern Ethiopia where there's never been enough rainfall to grow grain to feed its residents year round.
"As far as I can remember my parents used to receive food aid," Adane recalls. "I never went to school, because my parents were too poor to send me."
When people are struggling just to feed their families, environmental health takes an unfortunate backseat. But Adane, now a farmer, is food secure and resilient against future drought and his family no longer needs food aid. His daughters will go to school and Adane is breaking the cycle of poverty. Thanks in large part to trees.
Adane worked with our staff in Ethiopia to implement a program funded by the U.S. Agency for International Development, USAID, that engaged local communities in reforestation work to heal the arid landscape. Together we built hillside terraces and planted trees on rugged mountainsides. It's hard labor and in return, community participants earned cash or food aid to fill the food gap for their families. It has paid off.
"Long dried water springs regenerated," Adane reports. "Along the valley, there are now more than 70 young and adult farmers who produce their own crops using this irrigation."  
A sustainable year-round water supply means Adane works his farm all year long. He produces vegetables and sugarcane, and looks ahead. "Fruit trees are planted for my old age. Thanks to God, now I started to produce enough food for my family and even can sell to the market."
The Bible begins and ends with a tree. It references trees some 525 times, second only to water (722 times). Perhaps it is no coincidence that life is intimately linked with trees and water. Let's do what we can to bring a bit of Eden back to our cracked earth.
Peter Howard is Chief of International Operations for Food for the Hungry, providing strategic leadership to its country operations and programs worldwide. Food for the Hungry is a humanitarian organization graduating communities from extreme poverty through sustainable development, disaster relief, and advocacy in more than 20 countries.