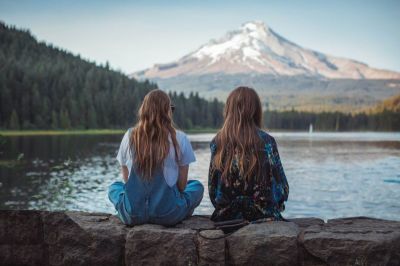 Patricia graduated near the top of her high school class—with aims of a CEO position in the corporate world. She'd written a personal manifesto with a dozen lofty goals to achieve before she turned thirty.
Grace's agenda was digging deep roots in her hometown. She married her high school boyfriend and had two children.
While she was busy changing diapers and managing a home, Patricia studied abroad, learned to speak Spanish, German, Chinese, and got her MBA.
Back in high school, Grace and Patricia had been one another's confidant. Even though one studied and the other preferred television, they shared what mattered—friendship.
They refused to let time and distance break apart their friendship. They dutifully held quarterly lunch meetings—made possible through Patricia's corporate travels.
Neither one ever experienced the other's world. Patricia circulated in a rich, art-loving New York crowd. Grace was president of her kid's PTA and a Sunday school teacher.
Patricia never married—so Grace shared her rollercoaster world from toddlerhood to teenage emancipation, and marveled at how Grace stayed married while managing everyone's activities and volunteering hours and hours—something Patricia admired but never found time to do.
Grace learned about boardroom boldness and decisive decision making—something Grace needed in coping with teens and finding a way to say "no" to one more volunteer project.
Neither supported the same political party, or agreed on the hot-button issues of the day.
But friendship didn't require solidarity with their own opinion. Instead, friendship gave them both what they lacked—a differing perspective. Diversity became their teacher in life's classroom.
As their fifty year high school reunion approached, Grace was a grandma, and Patricia had a corner office suite overlooking Manhattan.
They couldn't have traveled further apart in life goals. Yet, their friendship had connected the years—with lessons neither one would have learned without the other.
Karen Farris served in the crisis pregnancy ministry — traveling thousands of miles and speaking to over 10,000 students about their life choices — for nearly a dozen years. She became a grant writer and helps find resources for projects that serve those in poverty, mainly children. She's been a blogger since 2010 — 
Friday Tidings
 — sharing stories of faith, life, and purpose to give hope in a hurting world.