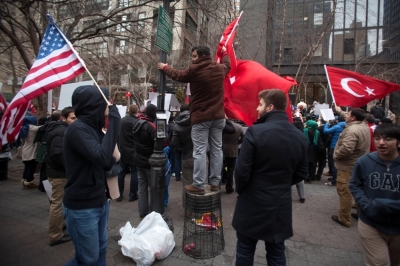 Writing from Izmir Turkey on the eve of Brunson's 2nd court hearing, May 6, 2018
To any observer, faith-based, secular, casual or otherwise, the Middle East can be geo-politically confusing. It is a classic Abbott & Costelloesque of "Who's on First?" example of who are the players and whose side is 'who' on, really. As followers of Jesus, we must model those men of Issachar who "had understanding of the times..."
(1 Chronicles 12:32).
Pastor Brunson, who has labored faithfully in Izmir, Turkey for 23 years as a pastor and lover of the Turkish people and of Turkey, is caught up in the maelstrom of the political landscape that rages between Turkey and the USA, NATO allies. I attended, as a supportive brother pastor, Brunson's first public hearing on April 16, 2018. Arrested in October 2016, Brunson was held without charge, sans trial, sans public hearing. Ultimately, a 62-page indictment from the Turkish government charges him with conspiring with a shadowy figure, Fethullah Gulen, who lives in a compound in Saylorsburg, Pennsylvania. Brunson testified at his first hearing that he has had nothing whatsoever to do with Gulen nor the Gulen Movement, nor the YPG nor the PKK.
The Gulen Movement or 'Hizmet' (its Turkish name) is connected to two organizations that the U.S. government has deemed as terrorist organizations: the PKK or Kurdistan Workers Party and its Syrian affiliate, the YPG or The People's Defense Unit. Both of these organizations are driven by Marxist ideology and, along with the Gulen Movement, have been involved with kidnappings, murders and narcotics trafficking. Gulen, one of Turkey's most wanted criminals, is currently facing multiple charges in his native Turkey including treason-and Turkey has submitted an extradition request to the U.S. government. Perhaps the strangest twist in all of what Gulen is connected to including fomenting a failed coup in Turkey in 2016, is the fact that the Gulen Movement operates 140 charter schools in 26 states in the U.S.
The American media has scrutinized Gulen, his Islamist ideology and its charter schools and have written that it is "a false-flag movement." So the question is: "Why is the U.S. government, not only providing refuge for a terrorist, an international criminal, but why are his charter schools getting funding of $800 million dollars to operate in the United States? Clearly, Mr. Gulen should be extradited back to Turkey by the U.S. government, immediately, if not sooner.
As I write this from Izmir, Turkey, I will, again, attend Pastor Brunson's trial/2nd hearing on May 7, 2018. He will again go before Izmir's 2nd Criminal Court and proclaim his absolute innocence and the fact that he has had nothing to do with Gulen nor his Hizmet Movement. I contend that Brunson did so in his first criminal hearing last month — a total denial of any connection whatsoever with Gulen, Hizmet, PKK nor YPG. Brunson and his wife Norine have pastored a small church in Izmir for 23 years-and, as he said in the April 2018 hearing, "Why would I do anything to jeopardize my long term ministry here in Turkey where I have loved the Turkish people, loved Turkey and our three, now adult children, were born here in Turkey.
To me, the solution seems simple and will not violate Turkish Rule of Law nor violate Turkish sovereignty to protect itself from powers, foreign and domestic just as my own American government has the right to do so. Solution: the U.S. government should extradite Mr. Gulen to Turkey in exchange for the immediate release of Pastor Brunson. The US government in the past administration made these types of 'deals' with none other than Iran, viz. Pastor Saeed Abedini. What is the point to have a Turkish terrorist living in the midst of the United States when President Erdogan of Turkey has asked for his extradition? I would urge my friends and colleagues in the U.S. Congress as to why the U.S. government is harboring a terrorist like Gulen. Doesn't this come under the banner of, "If you see something; say something!"
People all over the world are praying for Pastor Brunson's release-he is now into his 20th month of incarceration. Let's extradite Gulen; let's get Pastor Brunson home. This should be our prayer and this should be our activity as we as Americans contact and appeal to our federal elected officials about Gulen and his undermining of democracy. Let's get this over with and bring Pastor Brunson home.
Pastor William Devlin is the Missions Pastor of Infinity Bible Church and travels the globe bringing the gospel of Jesus Christ to hard and dangerous places like Gaza, Iraq, Sudan, Syria and Cuba. The rest of his time is spent in Philadelphia with his wife of 35 years, Nancy. They have five children and five grandchildren. He is president of REDEEM and co-chair of Right to Worship NYC.