4 Things You Need to Know About Gosnell: The Trial of America's Biggest Serial Killer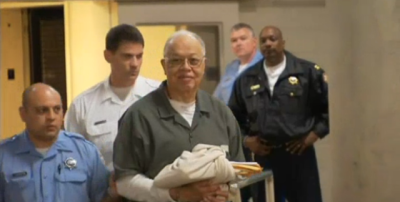 This Friday, October 12th, the story of perhaps America's most prolific serial killer will come to big screens across the country.
Here are four things to know before you go and see the powerful film Gosnell: The Trial of America's Biggest Serial Killer:
1. It's fact, not fiction.
The bodies in the basement, the baby feet in jars, the cats in the exam rooms and the blood on the walls—these may seem like descriptions of something out of a horror film, but this is what investigators found when they raided Kermit Gosnell's family planning and abortion clinic in 2010.
The atrocities at Gosnell's clinic were first exposed during an investigation into Gosnell's illegal drug operation. During the raid, instead of drugs they found blood stained furniture and the bodies of babies stashed around the clinic. In the end, there were 47 fully intact preborn remains identified in all.
Although abortion is not a crime and stashing the body of an aborted baby is considered a minor offense, authorities discovered that Gosnell was guilty of more, much more. Gosnell wasn't aborting babies at all. He would give women drugs to induce labor and kill the baby after he or she was delivered. To "ensure fetal demise," as Gosnell would say, he would snip the spinal cord of the newborn baby with scissors. A neonatologist testified to the grand jury that the infants would die in immense pain. It was grotesque, barbaric, horrifying and cruel, but this actually happened. For decades, Gosnell was allowed to operate without any interference.
2. It's not preachy, gory or exploitative.
Despite the grim and politically charged subject matter, the producers, to their credit, went above and beyond to keep a mostly neutral stance throughout the film. The facts are what guide the movie and the characters, not an agenda. Nothing was changed in order to make a political statement or "preach" to the audience. The focus of this film was on Gosnell, his crimes and his victims. It was also never gory, nor did it exploit the lives that were lost. For those familiar with Gosnell's crimes, the movie often feel more like a dramatization than a film. This attention to detail made the film better and more powerful.
3. It's not about abortion.
Gosnell is a film about what can happen when an incompetent doctor is allowed to operate without limits or oversight. It's also about government corruption and neglect. We learn that Gosnell's house of horrors was not inspected for nearly 20 years because a former governor of Pennsylvania told the Health Department to stop inspecting abortion clinics. During that time, two women died from botched abortions, other women had their internal organs damaged, and countless babies were deliberately killed. Even when complaints were made, no one investigated or held Gosnell accountable.
In the end, this film is really about an investigation into Gosnell, his crimes and subsequent trial. I'm not saying that this movie won't make you think about abortions and how they are performed, because it will and it should. Abortion is currently legal in this country. In fact, the United States has some of the most liberal abortion laws in the entire world. But that's part of the reason a case like Gosnell's happened.
4. It will make you think.
Abortion is an abstract concept for most people. What this film has done exceptionally well is make the human cost of abortion real. At the center of this film is Baby Boy A. He was born at 32 weeks' gestation before he died at the hands of Kermit Gosnell. He was so big that one of the staff members took a picture of him, which you can still find online in the grand jury report.
Late‐term abortions are legal in this country and are usually completed by injecting the heart of a developing preborn baby with poison. Although we treat what happened to Baby Boy A differently than a regular late‐term abortion, are they really all that different? Or merely a matter of geography?
Abortion is a topic that so many people feel strongly about, both pro‐abortion and pro‐life. A film like Gosnellis incredibly important because it raises the ethical questions that we need to ask ourselves as a society.
Abortion may be legal, but what's the human cost?
Brittany Raymer is an issues analyst at Focus on the Family, covering the areas of abortion and bioethics.