While I am very sorry to hear of the painful divisions your denomination has been experiencing since the General Conference in 2019, I am writing to assure you that there is hope for the future through the Gospel of Jesus Christ.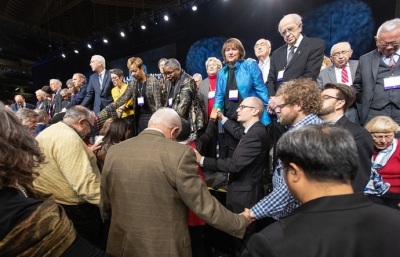 Ah, but what is the Gospel of Jesus Christ? Does it, perhaps, change with time or is it — like Jesus himself — the same; yesterday, today, and forever?
The Anglican ministers who founded your denomination in the 18th-century (e.g., John Wesley and George Whitefield) had a very clear understanding of the Gospel.
The early Methodists were in complete agreement with Anglicans, Presbyterians, and Lutherans over the doctrine of Justification, but they felt that the doctrine of Sanctification had been neglected.
To be clear, Wesley saw Justification as an instantaneous experience of the new birth (or regeneration) and Sanctification as the process of becoming more holy.
As Wesley preached, he offered people not only the hope of immediate forgiveness of sin, but also the hope of gradually learning to sin less. This is "traditional methodism" and it has changed millions of lives for the better.
There is, sadly, a "new methodism" that would not only leave people in their sins, but even affirm and celebrate those sins. These are not the old sins of thievery, drunkenness, fornication, etc., but the very abomination that caused Sodom and Gomorrah to be wiped off the face of the earth: Homosexuality.
You will probably remember that before Sodom was destroyed, God graciously offered his people a way of escape. A man named Lot took that way of escape, but his dear wife, looking back, was turned into a pillar of salt.
This is the kind of pain that modern Methodists can expect to feel due to the recently announced "Protocol of Reconciliation and Grace through Separation".
This "protocol" is essentially a way for "traditional" Methodist congregations to withdraw peacefully from the United Methodist Church. While the traditionalists should be thankful for a peaceful way of escape, they should also brace themselves for the pain that will undoubtedly be experienced.
Friends will be lost. Families will become divided. The faith of many will be shaken. Our Lord Jesus predicted such pain as part of the Gospel he preached: "Suppose ye that I am come to give peace on earth? I tell you, Nay; but rather division… the father shall be divided against the son, and the son against the father… etc." [Luke 12:51-53]
At this point, you may be wondering, "Why in the world would a Presbyterian Minister be writing an open letter to Methodists?" Here is the reason:
My denomination experienced a similar division in the 1930's during the so-called Fundamentalist-Modernist Controversy. When it became apparent that progressives had taken over the power structures of the church, there was only one option for those who continued to hold to the old tenets of our faith: Separation.
Our exodus from the Presbyterian Church U.S.A. cost us everything. Church buildings were lost and Ministers' pensions were forfeited. We walked out of that Sodom with only the clothes upon our backs.
Though it was a very difficult time, not a single minister or member regretted it; as they were once again able to preach the Gospel of Jesus Christ in all of its saving and sanctifying fulness.
Traditional Methodists are faced with a similar predicament today, but God has graciously prepared a much easier path; as the "protocol" allows for churches to keep their property and pastors to keep their pensions. There is, therefore, nothing to lose.
Well, there is one thing that will be lost: The name "United Methodist Church." To be sure, it is sad that progressives always get to keep the denominational names, but anyone who understands theology and history knows that the new denomination will be the "continuing" Methodist Church.
Take heart, my dear neighbors and friends. Be thankful for a peaceful path out of your compromised denomination. As those who remain will continue to celebrate sin, you will soon be free to celebrate Wesley's cherished doctrines of Justification and Sanctification once again.
"Wherefore come out from among them, and be ye separate, saith the Lord, and touch not the unclean thing; and I will receive you. And will be a Father unto you, and ye shall be my sons and daughters, saith the Lord Almighty." [2 Corinthians 6:17-18]
The Rev. Christian McShaffrey, M.Div., is pastor of Five Solas Church in Reedsburg, Wi.  The chuch is a member of the Orthodox Presbyterian Church.