In Charlottesville, 'There Were Bad People on All Three Sides'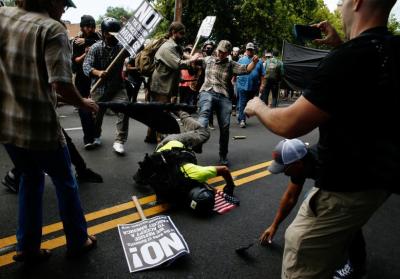 It is now a year since the violent racial clashes on August 11 and 12, 2017, in sweet Charlottesville, Virginia – home of the brilliant, excellent University of Virginia. Charlottesville is also the home of Monticello, the exquisite mansion built by Thomas Jefferson – or rather built by "his" slaves – featured on the back of every nickel in your pocket.
Among the people on the ground last August, there were three bad factions whose foolish purposes clashed violently, leaving one person dead, worsening racial misunderstanding, and obscuring the real racial issues in Virginia and in our country.
While New York City has my town for decades, I invested an amazing nine years of my life in the Charlottesville community – putting my life at risk for racial justice, creating and directing what is still an exemplary volunteer agency, pastoring a vibrant church, completing two graduate degrees at the University, living just 2,000 feet from the KKK headquarters for three counties, and openly organizing people and communities against white racism. I know that what happened in Charlottesville matters.
Three significant groups contributed to the August 2017 violence:
The hateful white supremacists, including KKK and neo-Nazi groups who speak violence and were looking for a fight.
The hateful, cruel, fascist, "anti-fascist" militants on a mission to do physical violence to white supremacists.
The Charlottesville Police and the Virginia State Police who stood down and merely watched from a barricaded safe zone while numerous violent brawls between these two hateful, violence-hungry groups of civilians exploded right in front of them.
What a recipe for disaster!
"There were bad people on all three sides." This is perhaps what President Trump should have said. He would then have been right. However, I will have another comment about that shortly.
The well-funded and equipped police were relying on the fascist vigilante group to beat-up and punish the white supremacists – even though the hateful, vigilante, anti-KKK militants had no legal authority. Even when friends of mine were peacefully protesting the KKK march at the University on the Friday evening, they received no protection from Charlottesville Police or the University Security. The police stood at a "safe distance," detached and merely observing.
Charlottesville itself commissioned a thorough review of the crisis – and hired former U.S. Attorney Thomas Heaphy to lead the transparent examination. The 207-page official report released in December 2017 was unsparingly critical of the police. The report concluded that the passive police stance "represents a tremendous tactical failure that has real and lasting consequences."
The report noted that only one police officer disobeyed the insane stand-down orders and entered the crowd to de-escalate one potentially violent clash. It is as if the police, the vigilantes, and the KKK all wanted blood! Is it any surprise that each of their wishes were fulfilled?
There is a profound moral lesson from Charlottesville 2017, but it is being hidden by biased coverage that chooses to target the hateful white supremacists only. Why have most of the media covered only the hateful white supremacist presence – both ignoring the violent anti-KKK vigilantes and covering for the feckless police?
Especially tragically, the nearly total passivity of the police both enabled and empowered both the hateful supremacists and the hateful vigilantes, and directly fanned the appalling violence. Why is this massive police failure not more well-known?
So now the distracted conversation about race is blindly focused on how bad a few white supremacists are – instead of addressing our huge and systemic racial issues of dysfunctional urban schools, mostly segregated and unequal. It is as if Brown vs. Board of Education never happened more than 60 years ago. And how about the 2018 nation-wide "Jim Crow" of mass incarceration?
"There were bad people on all three sides of the Charlottesville violence." So true! And yet there are potentially "good" people on all three sides, too. People from all three guilty factions can be won over to more Godly living. There must always be hope. Thankfully, miraculous redemption is still possible.
In my racial justice work in and around Charlottesville years ago, there was one Bible verse that often slowed me down. "Speak the truth in love," Paul instructs us in Ephesians 4:15. It is so easy to come up with truths against racism. It is much more difficult to communicate those redeeming truths in love to a potentially violent racist. Far more difficult – but much more intensely rewarding. Seeing KKK members tearfully leave the Klan and embrace Jesus' "Love your neighbors as yourselves" is definitely worth the risk.
Always!
Paul de Vries,
pauldevries.com
, is the president of New York Divinity School, and a pastor, author, and speaker. Dr. de Vries is a specialist in Biblical hermeneutics and ethics and a life-long advocate for
Biblical Activism
.