Countercultural Methodists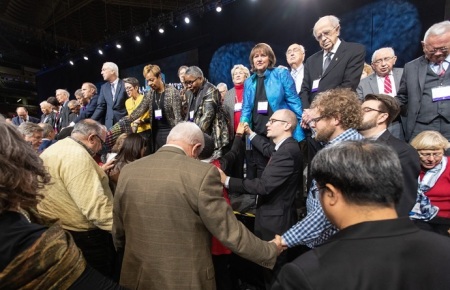 United Methodism is becoming countercultural after a century or more of American cultural conformity. This transition is required for its survival but it will be rocky.
When passed at February's United Methodist General Conference, the Traditional Plan excited widespread indignation in America. A large and historically liberal Mainline Protestant denomination had not only reaffirmed historic Christian sexual teaching, it had strengthened it. History was not supposed to move in that direction, at least according to secular prophets.
April 26, the denomination's top court again okayed most of that Traditional Plan, making it now law for the 12.5 million member global church. Some disappointed church liberals still hope for revocation at the next General Conference in 2020. But the wiser among them realize that membership trends, with growth in Africa and decline in the American church's most liberal regions, preclude such hope.
After the General Conference, many U.S. clergy published newspaper ads in large urban areas denouncing the Traditional Plan and affirming their own more progressive views. They essentially apologized for United Methodism's countercultural stance, in sync with historic and universal Christianity, that sex is for husband and wife.
Perhaps there should have been similar newspaper ads after the much less noticed 2016 General Conference, which revoked much of United Methodism's longtime support for abortion rights. The church's membership in the Religious Coalition for Reproductive Choice, which the church helped found in 1973, was cancelled. And the church deleted its 40 year old support for Roe v. Wade. United Methodist support for abortion rights began in 1970, preceding even the Supreme Court ruling three years later.
For most of the last century United Methodism and its predecessor bodies have followed American culture on key ethical issues to the neglect of historic Christian teaching. Methodism was commonly called "America's church" and it typically echoed what American culture declared as verities.
Methodists were not fundamentalists or holy rollers. They were mainstream and respectable, espousing no opinions that would disturb the secular culture. Church agencies, bishops and related schools were all predictable officiants for blessing conventional secular American opinion.
This marriage between Methodism and American culture endured so long as that culture accepted at least non-threatening Mainline Protestantism. But secular culture has become impatient even with emasculated religion. And Mainline Protestantism, after over 50 years of decline, no longer even offers significant political or cultural cachet.
Generations of United Methodist clergy were trained in American cultural conformity by their church's seminaries and hierarchy. And many are now befuddled that their church, thanks to its global membership and irrepressible evangelical subculture, is moving towards nonconformity.
This adversarial stance with American secular culture is discomfiting. And these clergy were never trained to deal with it. Hence many have responded with newspaper ads and online petitions assuring the secular culture: "We are still with you!"
Many of these clergy trained in the ways of cultural conformity eventually will leave global United Methodism to create new liberal U.S. denominations that avoid countercultural adversity. These new denominations will fare as well as other declining Mainline Protestant denominations.
Shorn of these clergy, including most U.S. bishops, nearly all the official seminaries, church agencies and other institutional forces for cultural conformity, global United Methodism will have to develop new resources as a countercultural force in America. There will be new seminaries and other forms of theological training, new publishing and media outlets, new less inert agencies, new concepts of episcopal leadership, new focus on soul-winning and church planting, new understandings of Christian community that is joyfully countercultural.
There are traumatic and exciting years ahead for Methodism as it painfully detaches from American cultural conformity and relearns how to be more fully part of the universal church. Who will teach us? Who will lead us?
Some will wonder if it were not safer to have remained a dying Mainline Protestant denomination, a process with which we were at least very familiar. We will have to trust, wait and behold what dangerous greatness lies ahead.
Originally posted at Juicy Ecumenism.
Mark Tooley became president of the Institute on Religion and Democracy (IRD) in 2009. He joined IRD in 1994 to found its United Methodist committee (UMAction). He is also editor of IRD's foreign policy and national security journal, Providence. Follow Mark on Twitter
@markdtooley
.