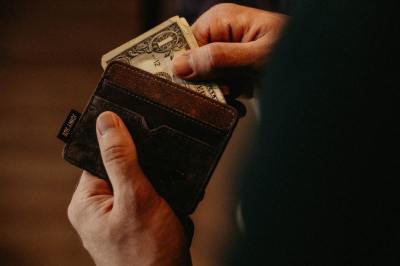 Have you ever considered that we spend at least half of our waking hours working to earn a living? In fact, for many of us, that percentage is probably significantly higher. Now, it is good to be thankful that God has provided us with some wonderful opportunities to earn a living, but many of us may not always work in a job that we particularly love. Out of a desire to provide for our family and be a contributing member of society, we endure often stressful and tedious days, weeks and even months, doing whatever we have the opportunity to do. Work can be highly rewarding but is also frequently a considerable challenge. So, we see that whether we have our dream job, or are working toward that end, the paycheck we receive represents a significant percentage of our life's effort. 
Many of us know that we are to do all things unto Christ and should have this attitude of gratefulness that we have decent jobs and rewarding work to do. One of the most prominent themes I discuss is that the Lord provides for us, even when we're not entirely considerate of Him, nor grateful (nor even aware sometimes.) So if the Lord truly considers us of much greater value than a sparrow in the field, and He feeds the sparrows who don't even work, why is money one of the most crippling stressors on the planet? 
The answer is simple. We have a deep fear of money. 
That may seem counter-intuitive, since we are led to believe that we are more likely to be prone to loving money. But the truth is, we never feel we have enough money, because we fear it. Think about it — we have fear about the money we have earned each week. There is the fear of not making enough, the fear of losing it, perhaps the fear of not getting rid of our debt. Fear pervades most of our thoughts about money. 
However, all through Scripture we are called not to fear but to put our trust in the Lord in all things that we do. I have found in over thirty years of counseling individual and organizations about the stewardship of their money, we are usually very good at "trusting the Lord" — until it comes to our money. 
We have somehow managed to compartmentalize our money away from, or out of the responsibility of God. We take that responsibility upon ourselves and often leave the Lord out of the picture. But He commands us not to worry about money.  Worry is rooted in fear.  As I've explained, when you break it down, that paycheck represents the hours you've worked. The sweat that's poured. The stress you've endured. The focus you've maintained. Day in and day out. You trust the Lord in your daily effort, and money is simply a representative of that effort. So I encourage you to take it one step further and trust Him with the symbol of that effort, namely money. 
I truly believe that when you apply the principles of biblical stewardship to your money, you will overcome this fear. You will walk day by day, trusting the Lord in all of your circumstances and opportunities, with all that you have, and knowing it is God in whom you place your trust. 
Dan Celia is president and CEO of Financial Issues Stewardship Ministries, Inc., and host of the nationally syndicated radio and television program "Financial Issues," heard daily on more than 660 stations across the country, reaching millions of households on several TV networks, including FISM-TV. Visit www.financialissues.org.