Instead of Tearing Down Statues ... Rename the Russell Senate Office Building for Hiram Revels
It would help if all the student protestors actually spent more time learning history.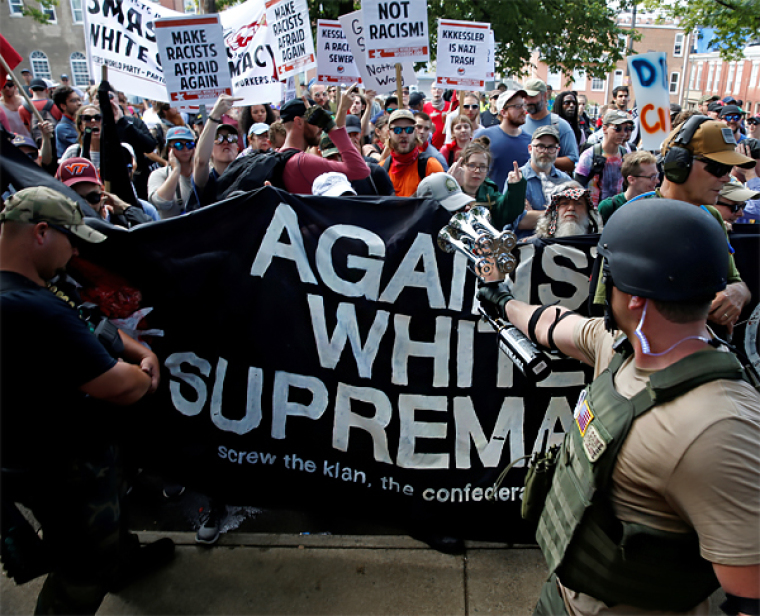 It would help if all the student protestors actually spent more time learning history. For example, when the Bernie Sander's supporters and other self-proclaimed socialists call people they don't agree with, "Nazi's", they are basically accusing them of belonging to the National Socialist Party which these kids today claim to belong to.
Another interesting note is that when the protestors spray paint the monuments without understanding who and what these people stood for, it is no surprise that the Lincoln memorial gets defaced. Maybe it was because he was the first Republican president ever elected. Maybe it's because the party was formed 6 years before his election, to abolish slavery and ensure equal rights for all emancipated slaves.
Most people don't know that the first black Senator, Hiram Revels, was a Republican. They don't know that the first 23 black congressmen, were also Republican.
All of these alt-left, liberal protestors who are clamoring to erase their past, all belong to the party that historically self-identified as white supremacists. Yes, the party of slavery, of Jim Crow, of the KKK, of segregation, of Plessy v. Ferguson ... of all things racist in the country. Liberal Democrats are keeping that history of their forefathers alive through their draconian, anarchist tactics of marginalization and dehumanization. Just like they did back then. Jeff Davis would be so proud.
While their party was dividing the country over the issue of slavery they were also fighting the newly formed Republican party that had six of their 9 planks in their first platform designed to destroy slavery, give equal rights and voting rights to recently liberated slaves. It was the Democrats who wanted to divide and destroy the country, just to keep slavery alive.
If the left wants to go back to the time of slavery and destroy everything that stands as a reminder of their white supremacist causes, have at it. It's their history. It's their battle flag, it's their heroes, their generals, their leaders. You don't even have to go back to the time of slavery and see that same racist, segregationist mentality that is part of the Democrats political DNA. Can you say "Robert Byrd", or "President Woodrow Wilson?"
According to Democrat Senator, Chris Dodd, his fellow Senator Robert Byrd was the conscience of the Senate. The same Robert Byrd who used the "N" word regularly and was well known, in his party as a grand cyclops wizard type leader of the KKK. Hillary is proud to say he was her mentor and has not been asked if she thinks all the statues of this REAL white supremacist should be torn down.
The examples of blatant racism in our time, committed by leaders who have a lot of statues, schools, and roads named after them are totally ignored by the party to which they belong. Yet that same party that fought a war to keep slavery alive now claims the party that fought a war to abolish slavery is full of racists.
President Woodrow Wilson, a Democrat segregationist, premiered the first movie ever shown in the White House and he chose, as the movie to honor the history of his party, the very racist, controversial movie, "Birth of a Nation". It glorifies the founding of the KKK and attempted to destroy the character and reputation of all the newly elected black leaders to congress.
Now, that is a white supremicist, not a man who didn't appease the fascist arm of the Democrat party by saying exactly what they think he should have said, the way he should have said it, and at the time they think he should have said it.
After the civil war was over, and blacks were being elected to congress, as Republicans .... there was so much hostility that these newly elected black leaders had to go armed to congress. The Democrats had a hit card to kill all the radical Republicans. They knew they could kill any black and be killing a Republican, but they had to be more careful when targeting the whites so they actually had a card with their photos on the front and names on the back. They were targeted for death .. by the Democrats. Sort of like the ones calling for Trump's death today. Nothing has changed with these radicals.
It would actually be more historically accurate if all these confederate statues were taken down and were replaced by statues of men and women like Charles Sumner, Thaddeus Stevens, Elizabeth Cady Stanton, Lucretia Mott, Charles Finney, William Lloyd Garrison, and editor, Elijah Lovejoy who was murdered for his abolitionist views.
Charles Sumner was the founder of the Republican party and was almost killed when a Democrat congressman, Preston Brooks, crossed the Capitol and approached Sumner, caning him, almost to death, because he was giving a speech in support of abolition.
It took three years for him to recover and when he went back to the Senate, the first thing he did was introduce another bill ... to abolish slavery. Oh to see that kind of courage in Republican politicians today.
There are hundreds of white leaders who fought the same causes. There are hundreds of thousands of whites who gave their lives to liberate slaves they had never met, in states they had never been in. The civil war was not white vs. black, it was right vs. wrong. There were whites on both sides that absolutely disagreed on this issue and both sides were willing to fight and die for their beliefs.
Unfortunately, the side that lost ... the confederates, used reconstruction to try and put liberated slaves back on a virtual plantation, drowning their rights to vote in the impractical and totally targeted rules of Jim Crow. The democrat appointed Supreme Court figured a way to disallow integration by suggesting, in Plessy v. Ferguson, that "separate but equal" was the moral equivalence to racial integration and compliance with the 14th Amendment that guaranteed Equal Rights.
So yes, let's replace all the confederate statues with Republican warriors and heroes, and of pastors and Christians who put their lives and reputations on the line to end slavery.
If the left wants to put their historical revisionism where their mouths are I have a very easy, morally correct opportunity to do it, where no monuments are destroyed and the cost would be very minimal.
The very first black Senator was Hiram Revels. Since his last name starts with an "R", turn the Russell Senate Office Building into the "Revels SOB," and the R would stay the same.
Now, why would we think about replacing the Democrat senator, Richard Russell? Maybe because he repeatedly blocked and defeated civil rights legislation by using the filibuster and co-authored the Southern Manifesto in opposition to civil rights?
He was a bonafide supporter of white supremacy and never apologized for his segregationist views, votes and speeches. Russell lead the opposition to civil rights legislation. After President Johnson signed the Civil Rights Act of 1964, Russell along with more than a dozen Democrat Senators, boycotted the 1964 Democrat Convention. Yep, he's the real deal. If the left really wants to know what a real white supremacist is, he's their guy.
So, if the Republicans even had a clue as to what their history is all about, and that the party was founded specifically to abolish slavery, they would put a bill on the floor, asking that the white supremacist, racist, elitist Richard Russell, have his name removed from the RSOB and rename it the Hiram Revels Senate Office Building.
And if the democrats oppose it ... can we assume they are racists?
The next thing that congress can do would be to totally take away all funding for the white supremacist sham organization, quaintly referred to as "Planned Parenthood." Their founder, Margaret Sanger, was hell bent on destroying the black race and as a good little fascist, she loved Hitler and gave him the idea for the final solution. The left gives out awards in her honor every year and I bet there is a statue of this white supremacist somewhere in the world that should be torn down.
And if PP is not defunded, are we to assume it is because those voting to continue giving it money are white supremacists?
So there are two solutions right there without anything having to be destroyed.
For more information on the history of the civil rights movement in America, and the role that both political parties played, go to RWPvideo.org and get the two documentaries .... "Emancipation Revelation Revolution" and "Reparations: Who Should Pay?"
Better spend time learning your history before the left succeeds in destroying it and anyone who dares try and speak the truth about it.
Nina May is president of Renaissance Women Productions and creator, producer and director of DAILY BREAD (www.dailybreadseries.com) , a faith-based post-apocalytic streaming series that recently won 26 awards at the Christian Film Festival.