Learning to Find Contentment During Trials
On the heels of God working in big ways, we often face the depressing journey of typical days or new challenges.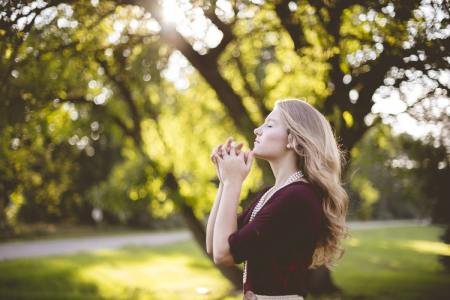 When my daughter was five years old, she spent 15 days in the hospital battling pneumonia and a life threatening blood clot. Throughout the scary days in intensive care, I felt God's nearness and the support of the friends and family. When we came home, I was caught off guard by thoughts and even dreams bombarding my mind that made no sense at all.
"What if I had taken her to the hospital sooner?"
"If only it hadn't taken the emergency room staff nine hours to figure out how serious her condition was?"
My logical mind knew these were useless mental pursuits, but I felt unsettled and at war within my own head.
The Lord had brought us through near death challenges and walked with us as my daughter's health improved with each passing day. Yet on the other side of the trial, I hadn't expected to struggle so much replaying scenarios that could accomplish nothing. I know fatigue and many days of stress contributed to my difficult journey, but the discontentment on the other side of God's healing work was unexpected.
On the heels of God working in big ways, we often face the depressing journey of typical days or new challenges. Even though we've just seen God do something amazing in our lives, we can quickly forget His past faithfulness when we face the next setback in life.
This situation wasn't the only time I've felt in the valley right after a mountain-top event with God. I've found similar patterns in ministry, finances, friendships, marriage, and parenting. Throughout Scripture we see many similar examples in the lives of biblical characters like Joseph, Elijah, David, and even Mary the mother of Jesus. Certainly the Israelites crossing the Red Sea could relate to seeing God do something amazing.
Yet three days after God parted the sea and then drowned the Egyptian army in that same water, we will find the people of Israel with short term memory loss regarding the power of Yahweh to take care of them. They began complaining about the lack of water and looked back wishing they were back in slavery in Egypt.
Now before we judge them, think about just two or three things you have complained about this week. I participated in a contentment project recently where for seven days the participants moved a bracelet from one arm to the other with every complaint – both verbal and mental.
Some of the things women said they complained about included:
Traffic
Inconveniences (someone in my way or taking up my time)
Being hot or tired
Housework
Lack of time or money
Rushed schedules
Kids fussing
Though we may not have seen God part a literal sea, we have been rescued from our own brand of slavery. Jesus came to free us from the sin that enslaves us. He has promised to take care of us, yet we often grumble about slight annoyances. For us reading the story, it can be easy to say, "What is your problem? Can't you see that nothing is too hard for your God and He will take care of you?" "He parted a sea three days ago!" I want to judge them but then I remember how God has always taken care of my family yet I am prone to freak out over unexpected trials.
We must constantly realign ourselves with the character of God especially when it doesn't seem He is going to come through for us. We can cry out to Him when we are thirsty, frustrated, or hit with unexpected expenses, health issues, or conflicts.
Whether its crazy questions that invade our minds like I experienced after my daughter's recovery or real tangible needs like water in the wilderness for the Israelites, we can trust God to keep taking care of us.
"Yet true godliness with contentment is itself great wealth. After all, we brought nothing with us when we came in to the world, and we can't take anything with us when we leave it. So if we have enough food and clothing, let us be content." (1 Timothy 6:6-8 NLT)