Social Justice: A Response to the Gospel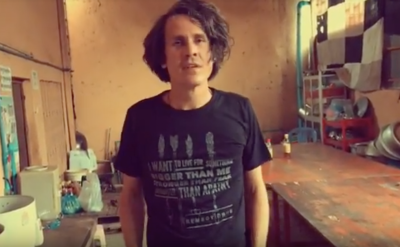 Thousands of preachers, religious leaders and church people decided to sign a statement in opposition to social justice work this week - at a time in history when there are more people enslaved, oppressed and exiled than at another other time in human history. 40 million people will be impacted by slavery in 2018. Around 25 million (most of which are children) have had to flee their homes as refugees in the last year. While white supremacist, racist and anti-immigrant sentiment rages in the streets and on social media platforms with heightened invigoration and visibility - this statement not only downplays the need for repentance from our long history of such ideology in this country but it also ignores the obvious need for conversations about what racial reconciliation could look like - especially if it started in ecclesiastical settings.
Sunday morning remains the most racially segregated hour of the week. Why?
The mandate of scripture to fight poverty through advocacy and generosity is absent from many pulpits. If it's mentioned it's never mentioned on the same level of other moral mandates even though the idea of being generous with the poor is mentioned 2100 times in scripture. Why?
Most funds given to Evangelical churches (more than 95% based on several studies I found online) go to salary, benefits, facilities and administration. This leaves less than 5% to go towards benevolence. Some estimate the average annual budget percentage of evangelical church giving that goes towards humanitarian aid is as low as 2%. If that's true then non-believers are out-giving Evangelicals when it comes to aid relief and meeting the physical and tangible needs of the poor, hungry, thirsty and exiled in our world even though Jesus' teaching mandates such generosity. Why?
The most likely group of people in America to blame the poor for their poverty are white evangelicals. Why?
Of all demographics, white evangelicals are the least supportive in this country to help resettle refugees. 68% think that America should not resettle refugees. Why?
There's a consistent belittling of the importance of pushing back against injustice in church settings and on social media platforms both by the leaders and overall church building culture. This mean-spirited dismissive mindset towards social work and justice work spills out for the whole world to see on social media platforms. If my gospel is not good news to the poor than it's an entirely different gospel that Jesus from Nazareth talked about.
"The Spirit of the Lord is upon Me,
Because He anointed Me to proclaim the good news to the poor.
He has sent Me to proclaim release to the captives,
And recovery of sight to the blind,
To set free those who are oppressed" Jesus quoting the prophet Isaiah
There's a long tradition throughout history of those that respond to the instruction of scripture as it pertains to advocating for the oppressed, marginalized and the poor. There's a recurring theme in scripture that echoes what is already written on our hearts and woven into the very fabric of our souls - to take the cause of the poor and oppressed is to know the
Maker.
"'He defended the cause of the poor and needy, and so all went well. Is that not what it means to know me?' declares the LORD." - The Prophet Jeremiah
There is also, at least in this country, a long history of religious voices that stand against those who seek to amplify the voices that have been drowned out.
"The true Negro does not want integration...He realizes his potential is far better among his own race" - Jerry Falwell, Liberty University
Falwell was very critical of Martin Luther King Jr. and referred to his work as the "Civil Wrongs Movement". He'd say these things in sermons influencing countless people in his view that the Bible supported segregation.
They had the same critique of MLK that they have for us today - "Just preach the gospel - stop agitating." Falwell was joined by a whole culture that stood up against the Civil Rights Movement because of a belief that racial integration was against the law of God according to scripture. The impact and the half-life of Jim Crow when it comes to hiring, lending and education is immeasurable. Most christian white flight universities never made any reparations for their racially motivated admission practices after being forced by the federal government to change their policies. The scope of such sin has gone unacknowledged and swept under the rug. The generational trauma passed on from the practices of people like Falwell in power is observable over five decades later. Thank God someone finally stood up for justice.
Frederick Douglass was an activist that aimed to reshape wider culture. He took consistent criticism for his activism from church people and preachers as did all the front line abolitionists in this country. They used scripture to support slavery and denounced anyone who stood against the law of the land. This is well documented in transcripts of sermons and
Christian columnists in newspapers in response to activism, pretest and disobedience of the Fugitive Slave Law.
"I love the pure, peaceable, and impartial Christianity of Christ: I therefore hate the corrupt, slaveholding, women-whipping, cradle-plundering, partial and hypocritical Christianity of this land." -Frederick Douglass
My participation in social justice is part of a legacy of love inspired by the teachings of Jesus and in response to his instruction. It is not a trend, a fad or a liberal cause. This is a spiritual practice. It's sacramental. It's a prescribed ingredient in my worship. It is love in the form of action. The two thousand times scripture mandates such action are reminders of what was already written on my heart, echoing in the deep caverns of my being, woven into the very fabric of my soul and interlaced into my DNA strands. I was designed to get involved with a very specific contribution in the arena of justice, mercy and compassion. As were we all. That I can say with 100% confidence.
"What does love look like? It has the hands to help others. It has the feet to hasten to the poor and needy. It has eyes to see misery and want. It has the ears to hear the sighs and sorrows of men. That is what love looks like." - Saint Augustine
These religious authorities are using their platform this week to undermine and dismiss the actions of those of us doing front-line work - knowing full well that, in a headline-driven society, their blanket statement in opposition of Social Justice, without ever defining exactly what they mean by social justice, could dissuade countless enthusiastic individuals from investing their lives into meeting the physical needs of our fellow image bearers.
I told a Christian record label executive that I wanted to write an album about social justice, boy soldiers and to use my songs to shine a light on modern-day sex slavery. He said "But isn't worship singing and social justice is something else". I thought to myself "read the prophets man!" I told another executive about my idea. He looked at me and said "David, I'm a whore - I just need you to give me something that I can sell." I thought to myself "I'm not a commodity." Becky is a name they give to commodify their target market. He says to me "Becky is a 45-year-old soccer mom who spends a few minutes with the radio on and she does not want to be challenged. She's in a minivan in Michigan and she just needs to be told that everything is alright. We just need you to focus on the positive, on the encouraging". Meanwhile, the plight of the most marginalized goes unnoticed and swept under the rug under the banner of safety.
"I hate, I reject your festivals,
Nor do I delight in your solemn assemblies.
"Even though you offer up to Me burnt offerings and your grain offerings,
I will not accept *them*;
And I will not *even* look at the peace offerings of your fatlings.
"Take away from Me the noise of your songs;
I will not even listen to the sound of your harps.
"But let justice roll down like waters
And righteousness like an ever-flowing stream." Amos the prophet
"Stop bringing meaningless offerings!
Your incense is detestable to me.
New Moons, Sabbaths and convocations—
I cannot bear your worthless assemblies.
Your New Moon feasts and your appointed festivals
I hate with all my being.
They have become a burden to me;
I am weary of bearing them.
When you spread out your hands in prayer,
I hide my eyes from you;
even when you offer many prayers,
I am not listening.
Your hands are full of blood!
Wash and make yourselves clean.
Take your evil deeds out of my sight;
stop doing wrong.
Learn to do right; seek justice.
Defend the oppressed.[a]
Take up the cause of the fatherless;
plead the case of the widow." Isaiah the prophet
Now is a time, more than any other time in human history, for those who love justice and the King's kingdom to speak up for justice, social safety nets and clearer pathways for upward mobility in our society. Let justice roll down! Give me oceans of justice.
David Zach is the frontman for Christian rock band Remedy Drive. Zach is an activist and also works with Exodus Road undercover as a covert operative to help rescue teenage girls trapped in sex trafficking rings in Asia and Latin America