The Unifying Force of Charitable Involvement
Amidst the constant corrosive discourse of our day, wouldn't it be a welcome sight for Americans to put down their smart phones and find a charity they can really get behind?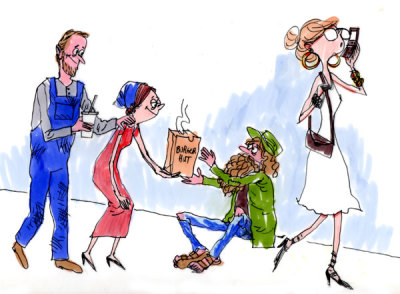 As a dad of kids ages 12, 9 and 7, I have experienced the frustration of constant bickering and fighting between the strong-willed and the opinionated. Taking away privileges has worked to a degree, but it never gives them an example of what doing life with others on a regular basis should look like ... especially when you don't agree with those people all of the time.
Fast forward to this year's holiday season.
My wife is particularly passionate about one charity's program to deliver materials and goods to people living under the poverty level in the developing world. And this year she made a concerted effort to involve our children in her volunteer service on behalf of this particular charity and those impacted by its services.
Several things happened.
First, my kids became really interested in learning about the countries where these goods were being delivered. I loved getting asked where Guatemala, Sudan and Myanmar were, and getting the opportunity to teach them about the differences between each country.
Secondly, my sons and daughter became passionate about fulfilling their role in ensuring this program reached its goals and impacted as many people as possible. I loved seeing them wake up early and get ready quickly so that they could accompany their mom to their school where they were in charge of collecting and organizing goods for pickup and ultimate distribution around the world.
Finally, as opposed to fighting over which movie to watch or who gets control of the video game console, they worked together to get their job done and even helped one another out along the way. The bickering and fighting dissipated because they were focused on others. A novel concept in this day and age for sure, but also something hardwired within us as Americans to activate when called upon.
Unified around a common cause for the benefit of others. That description of children will make any parent happy. And it also describes much of the thinking behind Giving Tuesday, observed this year on Nov. 28.
This year has provided numerous examples of Americans reacting exactly this way. Hurricanes Harvey and Irma, the wildfires in Northern California and shootings in Las Vegas and other cities around the country activated that innate sense of responsibility to our fellow man in ways that we see less and less these days.
Watching news stories of people from every walk of life, every ethnicity, every political party and every socio-economic stratum rescuing, caring and providing relief for those affected by these devastating events has revealed one of the greatest gifts of focusing on others through charitable volunteerism and monetary support: unity.
When people of different backgrounds come together to serve others they get to know one another, appreciating that no matter how different they are ...they have a similar compassion to see others healed, fed and otherwise helped.
What a fantastic opportunity that we have through charitable organizations to play a role in bringing people together. And what an amazing opportunity as volunteers and financial supporters of charitable organizations of all stripes we have to display acts of selflessness and compassion for others on a regular basis ... but especially during this holiday season.
A recent article in the Washington Times cited U.S. Department of Labor figures showing a 3.9 percent drop in the number of adults volunteering between 2005 and 2015. The article also makes the case that government programs are crowding out volunteer opportunities for a variety of reasons.
Regardless of the government's role in assisting those in need, I have never had a problem finding charities more than willing to receive the help of genuine and energized volunteers.
As a country, reversing the decline in volunteerism can do nothing but help relieve the narcissistic pressure to make the world revolve around us, and release the freedom that comes with putting the emphasis on others first.
Let's do this together so that we might be reminded of our common values while helping those who are truly in need.
Trent Dunham is president of Dunham+Company, which consults with nonprofits on their fundraising and marketing needs.