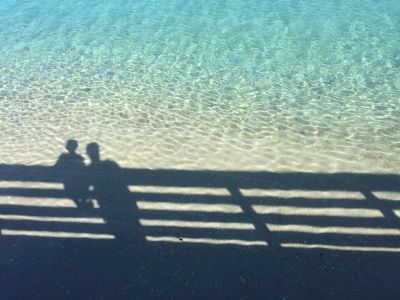 "Throughout your entire journey until you reached this very place, the Lord your God has carried you just as a father carries a child" (Deut. 1:31). Moses preached these words in the wilderness to the Hebrews who were afraid to journey onward. In many ways, Moses was like a father to the Hebrew people. They were slaves in the land of Egypt when God chose Moses to guide them to safety but, at this moment, they were in the eleventh month of the fortieth year of travel to the promised land. They were tired and questioned Moses.
The Hebrew people did not in that moment have the faith to see how God was carrying them and would carry them further. They did not have the faith a child has in a parent to see them through. Every day in this nation, however, children do look to parents for that safety and security; the feeling of being carried in the arms of someone stronger and surer of the way.
That role, whether carried out by a father or by those who fulfill that call, provides the security a child needs to develop, learn, and thrive. So, out of love, parents strive to make a home that offers stability and security. Many families are not willing to let geography and nationality keep them from realizing this goal. As God carried the Hebrews to a place of freedom, so do parents carry their children to new places to give them a chance to fulfill all that God has promised in their lives.
Fatherhood that shows signs of the love like that of our Heavenly Creator is something to be lauded. It is becoming increasingly difficult to be a father, however, for certain men in our communities. Immigrant fathers, those who are arriving and those who have made a home here, are too often deprived of their ability to care for and provide for their families.
On this Father's Day, we cannot forget the many fathers that make the decision to leave behind a home that will not provide for his children in a way that will allow them to be full participants in the world around them. Fathers, not willing to let their children suffer, make a perilous journey to seek safety. Along the way, they in fact, carry their children as they walk through rivers, deserts, and hop trains. They keep them close to keep them from harm. It is a journey for hope sustained by unwavering faith.
Men also become fathers, first time or again, in new lands. They hopefully bring life to the world as they seek a full life for their children. Wherever their child is born, they love them, they teach them, they advocate for them, they protect them.
What happens to a child when the one who carries them is taken away? The trauma and stress of such events is lasting. Today at the border, children are being stripped from their parents' arms. The Association of American Pediatrics, in a statement about border separation, said the separation of families causes "toxic stress" that can cause irreparable harm to developing children. In the interior, men are ripped away from families through immigration arrests, detention, and deportation. Children in the United States are left to fend for their younger siblings, often needing to take the role of advocate and protector.
We have seen how families struggle for generations following the systematic forced absence of fathers. In moments in U.S. history, through enslavement and forced migration, ancestral fathers were torn from both Native American and African American families. The trauma and disparities from the disappearance of fathers in these communities is still experienced today.
As the highest elected ecclesial officer of the Presbyterian Church (U.S.A.), I am called upon to provide pastoral care when members are suffering. Like one member of a Presbyterian church in New Jersey. Originally from Indonesia, he has made the U.S. home for more than twenty years. He has two U.S. citizen daughters and was compliant with immigration authorities but changes in policy lead to his arrest and detention. Four months later, he continues to be detained. He will be alone on Father's Day instead of celebrating with his family. As he waits and days tick away, his family struggles to stay afloat.
This story, sadly, is not unique. Our congregations are reaching out to families left hurting in communities all over the U.S., like in Mt. Pleasant, Iowa, after an immigration raid at a concrete facility. The majority of the thirty-two men detained are fathers. They were working. They were providing. Now many remain detained and others are fighting to stay with the families and communities they know and love. We weep as we know that they must try to protect their family from a disastrous outcome. They weep in jail cells as their families struggle to post bail. Father's Day will not be a celebration for many of them this year.
God carried us across deserts to the promised land. We were set free. As God has carried us all, as children, to this place, what does God want for us now? Our Loving Creator desires that we all be able to fully realize God's vision of abundant life. God's love is a love that knows no bounds and will not be stopped by any border. As the children of a benevolent and powerful Creator, we can help fathers be present and able to lovingly care for their children. We can be a voice grounded in radical love and mercy. We can advocate that fathers be present in the everyday life events of their children—reading bedtime stories, helping with homework, cooking the favorite meal, teaching the teenager to drive, and helping guide them through life's hard decisions. Our society understands the value of male role models for children. We want to celebrate the fathers who have accepted that call with open arms and open hearts. They should be embracing their families on Father's Day. Let us not choose to rob children of their childhoods. Let us not rob fathers of their ability to care for their children. Let us instead think about how we can allow fathers to be the creation God has intended. As they have journeyed to bring a better life for their children, let us be the neighbors that advocate for their own safety and security.
The Reverend Dr. J. Herbert Nelson, II, is the Stated Clerk of the Presbyterian Church (U.S.A.)